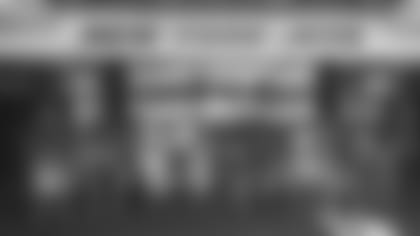 The Jets and Nike, in recognition of the 36th annual National Girls & Women in Sports Day, on Wednesday announced the expansion of a high school girls flag football league to a total of more than 40 teams across New Jersey and on Long Island.
And what a difference a year has made.
In February 2021, the Green & White and Nike unveiled an eight-team spring league in Northern New Jersey via a Zoom call because of the ongoing coronavirus pandemic. But on Tuesday, representatives from the Jets, area scholastic sports officials and players from each team gathered in person at MetLife Stadium for the announcement -- in the year that will mark the 50th anniversary of the adoption of Title IX, the landmark federal law that was signed in June 1972 that prohibits gender discrimination in educational programs and activities receiving federal financial assistance.
A decade ago, the Jets helped launch girls flag football in New York City, where it is now sanctioned by the Public Schools Athletic League. At present, only six states -- Alaska, Arizona, Florida, Georgia, Nevada and New York -- have sanctioned girls high school flag football leagues.
The expanded effort this year, which adds teams on Long Island, is in collaboration with the New York State Public High School Athletic Association, the NJSIAA, the North Jersey Super Football Conference, the Big Central Football Conference and the North Jersey Interscholastic Conference.
Working with Nike and the NFL Foundation, the Jets and the sporting goods manufacturer provide custom uniforms, equipment and grants to each participating school to defray costs.
Jesse Linder, the Jets' vice president for community relations, said that the teams will compete in a minimum seven-game regular season, which will culminate in a championship game for teams from each state at the Atlantic Health Jets Training Center in Florham Park, NJ, in June.
"Additionally, we're excited to start a one-on-one mentorship program for select schools with female members of the Jets organization and business staff members," Linder said. "We will also continue our award-winning documentary series EmpowHER, which will highlight the league in an episodic show on YouTube."
Nike, the maker of uniforms for all 32 NFL teams, has created a grant program with the aim of encouraging more states to add girls flag football and proper leagues to their menus of interscholastic sports.
"There are a million more boys playing high school sports than girls," Linder said during last year's flag football announcement. "We want to help even out those numbers."
The mentorship program is one of the key components for the Jets, an organization that is keen for girls and young women to pursue opportunities and careers in sports, and which has been aggressive in promoting diversity on and off the field. The program on Tuesday included a panel discussion among several woman who have made their careers in sports, including ESPN's Kimberley A. Martin and NFL Network's Kay Adams.
Before the players in attendance got a guided tour of the Jets MetLife Stadium locker room where their Nike uniforms were revealed, Linder closed the program on Tuesday with a surprise announcement: Bella Silvestri of Long Beach High School on Long Island was the winner of a drawing for an all-expenses-paid (two plane tickets, hotel accommodations and two tickets) trip to Super Bowl LVI in Los Angeles on Feb. 13.
The Jets and Nike helped expand the High School Girls Flag Football League, which debuted in 2021, to more than 40 teams. See the uniform reveal and a special event at MetLife Stadium to celebrate the growth of the league.