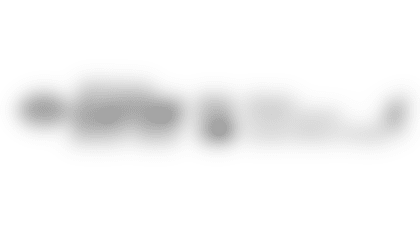 The Jets and Atlantic Health System are continuing their fight against cancer with a focus on pediatric oncology as part of the NFL and American Cancer Society's "Crucial Catch: Intercept Cancer" campaign. Through a series of events, the Jets and Atlantic Health System will increase awareness, provide comfort, and raise money for those that have been affected by cancer.
On Tuesday, September 26th, the Jets Women's Organization, Atlantic Health System and American Cancer Society hosted mothers and daughters whose lives have been touched by cancer for a Crucial Catch Day of Relaxation at MetLife Stadium. The mother/daughter pairs participated in a day of activities focused on relaxation and mindfulness, including a painting class, yoga, massages, and hand and undereye treatments. Defensive players Quincy Williams and Solomon Thomas surprised the group with an invite to attend the Jets Crucial Catch game on Sunday, October 15th.
Additionally, on Tuesday, September 19th, linebacker C.J. Mosley and defensive lineman Solomon Thomas visited Goryeb Children's Hospital to invite children who are undergoing or have completed cancer treatment to attend the team's Crucial Catch game and serve as honorary captains. Each child will receive a custom Jets jersey, a shopping spree in the Jets Team Store, and tickets to watch the game with their family from a suite. The Jets will also provide the opportunity for two children who could not attend the game, due to treatment, participate in a virtual shopping spree experience at the Jets Team Store with the VGo Robot. Designed for children with extended illnesses, immune deficiencies and other physical challenges that prevent physical attendance, the VGo robot provides an essential element for a child – the ability to participate in classroom and social experiences.
Prior to kickoff at. on October 15th, the honorary captains will be recognized on the video board during the coin toss. During the game, the Jets 50/50 Raffle will benefit Atlantic Health System's Goryeb Children's Hospital. On gamedays, fans can purchase 50/50 raffle tickets three hours prior to kickoff until the beginning of the fourth quarter. One lucky fan will split the jackpot with Goryeb Children's Hospital. For rules and more information go to nyjets.com/5050raffle. For more information on how to help the Jets and Atlantic Health System fight pediatric cancer please go to AtlanticHealth.org/Jets.