The New York Jets, on the eve of the start of their SUNY Cortland training camp, have agreed to terms with well-traveled free agent linebacker Jason Babin.
To make room for Babin on the 90-player camp roster, the Jets have released CB Lowell Rose.
Babin (6'4", 265), who has been a big pass rusher for multiple teams, is entering his 11th season of an NFL career that began as the first-round choice, 27th overall, of the Houston Texans in 2004.
After the Texans he also had stops with Seattle in 2007-08 (when Jets general manager John Idzik was just beginning his tenure in the Seahawks front office), Kansas City in '08, Philadelphia in '09 and again in '11-12, Tennessee in 2010, and Jacksonville the past two seasons. He was released by the Jaguars last month after re-signing with them as an unrestricted free agent in March.
Babin has a healthy total of 62.5 career sacks, with his high-water mark coming in 2011 when he chalked up 18 sacks for the Eagles, one season after registering 12.5 sacks with the Titans. He played in his only two Pro Bowls in those seasons.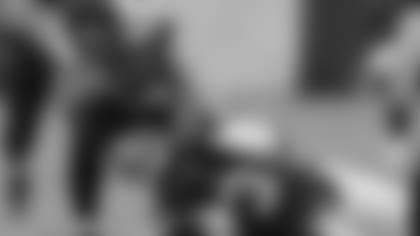 He also has had 14 forced fumbles and three recoveries in his career, during which he played in 130 games (90 starts).
Five of those career sacks and one of the strips came against the Jets, all in the month of December. As a rookie Texans LB in 2004, he dropped Chad Pennington. In 2011 as an Eagles DE, he sacked Mark Sanchez three times at Philadelphia. Then in '12 with the Jaguars, he scored a strip sack of Sanchez.
DE Muhammad Wilkerson remembered that 2011 game at Philly when he was a Jets rookie.
"He did a great job coming off the edge," Wilkerson said. "I'm looking forward to him doing the same, being that he's with us now. He's a great addition to the defense."
"I know Jason is a skilled pass rusher," said LB David Harris. "He can help us out a lot. He's a veteran and he's had a lot of success in this league. And his presence will be welcomed."
Babin, 34 years old, joins a Jets front seven led by Muhammad Wilkerson, Sheldon Richardson and Damon Harrison up front and David Harris, Demario Davis, Calvin Pace and Quinton Coples at linebacker that is looking to build even further on its strong 2013 season. He should also help our pass rush, which totaled 41 sacks, the most since the 1995 defense put up 43 sacks.
Head coach Rex Ryan was asked about the condition of LB Antwan Barnes' knee being one of the reasons Babin was brought in. Ryan said there was "a little bit" of concern but nothing more than that.
"Antwan passed the conditioning test [this morning]. He's worked awful hard," Ryan said. "I think he's where we want him to be, but anytime you're coming off a major knee injury, until you get out there playing football again, you're really not 100 percent sure. But we'll be smart with this decision, when we're going to play Antwan and things like that."
The Jets have placed both Barnes and G Willie Colon (knee) on the Active/Physically Unable to Perform list. Ryan said, "Could this be a longer PUP period [for Barnes] than for Willie? I would anticipate that. But we'll really lean on our trainers and doctors."
Also, TE Jeff Cumberland was excused from reporting to Cortland with the rest of the team today for personal reasons. He'll report to camp Thursday.
---