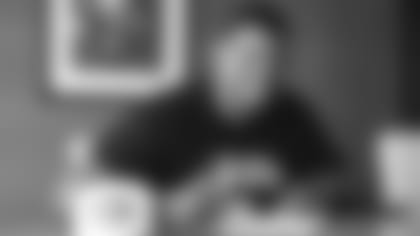 The Jets have signed defensive lineman Quinnen Williams, their first-round selection (No. 3 overall) in April's NFL Draft.
A one-year starter for Alabama, Williams totaled eight sacks, 19.5 tackles for loss and 71 tackles in 15 games last season and was a unanimous first-team All-American. The 6'3", 303-pounder also won the Outland Trophy, given to the nation's top interior lineman, and finished eighth in the Heisman Trophy balloting.
"Dominant, fast, speed, furious, ready to go," Williams told newyorkjets.com's Eric Allen when asked how to describe his game. "I'm ready to get out there and ready to get sacks. I'm a dominant force up front."
The 21-year-old Williams became the first defensive Crimson Tide player to be selected in the top three since DT Marcell Dareus in 2011 and is the highest defensive player selected in Jets franchise history. Alabama head coach Nick Saban said his former defensive lineman is "perfect" for today's NFL.
"I think it's his initial quickness and his ability to use his hands, play with leverage, get off blocks quickly," Saban said. "He's athletic, so he's a really good pass rusher. He's not a gigantic, huge, overpowering guy, but the rest of it is perfect for this day and age of football. I go back to the initial quickness and the use of his hands. This guy is a really smart, instinctive player. I think sometimes people overlook how that impacts someone's production and his production here was fabulous."
Williams is the 11th player drafted all-time by the Jets out of Alabama and the fifth Tide player taken in Round 1, following in the steps of QBs Joe Namath in 1965 and Richard Todd in '76, DE Marty Lyons in '79 and CB Dee Milliner in 2013.