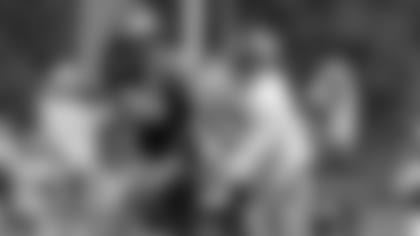 This is the week that all NFL teams' players get asked for the first time about pummeling opponents in different-colored jerseys.
For the Jets, the different color this week is usually not Giants blue. But no matter. The Green & White are ready to take on Big Blue on Thursday night at MetLife Stadium to kick off the preseason schedule.
One current Jet and former Steeler, defensive lineman Steve McLendon, quoted another ex-Steeler and Jet, guard Willie Colon, just for this occasion: "It's about that time. It's about that time."
"I'm pretty ready," said LB Jordan Jenkins. "You go against guys every day that you've been going against for the last season, two seasons, all year, you know each other's moves. ... Now you're ready to try out everything you've learned against somebody new, against somebody we're going to see later this year.
"We're tired of getting into it with each other. We want to go a thousand miles per hour and not worry about friendly fire."
This year's preseason schedule has thrown a curveball at the Jets and their fans. They'll be playing the Giants for the 51st straight summer, by far the longest current preseason streak in the NFL. But the game is normally in the third slot on the August schedule. This will mark only the second time they've opened against the Giants in the last 36 summers, with the only other opener a special occasion — the 2010 baptism of both teams' new home, then known as New Meadowlands Stadium.
This year's preseason game "was kind of set up that way" as the opener, said head coach Adam Gase, because the teams will be holding their once-every-four-seasons regular-season meeting later in the fall, on Nov. 10.
As the Jets' first-year skipper, Gase will be getting his first taste of the Jets-Giants rivalry. So will all the new coaches and players who have joined the team this year. But any edge to the stadium mates' annual get-together is well hidden, if indeed an edge even exists anymore. Jets reporters had no questions at any post-practice news conferences specifically regarding the rivalry, and all responses stressed the importance of this game not because it's the Giants but because it's an opponent.
"You know what? I am," Gase said of being eager to get the preseason party started. "It'll be fun to watch our guys be able to go fully at somebody else. I know it's not the old-school training camp where it's really monotonous, when you're 24 practices in before you actually play in a preseason game. I mean, what are we, 10,12,13, whatever it is?
"But it's still the same thing. You want to go against somebody else, different defense, different looks, different bodies. I think it's fun for us as coaches to watch, especially when you have guys in their first couple of games, and they get a ton of playing time, and just seeing how they develop, seeing who reacts well under the lights."
QB Sam Darnold said Monday he's "pumped to get out there at MetLife and see the fans, first of all," even if the Giants are the home team for this one, "and obviously go out there and play the game I love."
But a couple of defensive veterans had some one-word advice for their teammates girding for battle against the Giants. For safety Jamal Adams, "communication" is that word.
"That's the main thing, man, for offense and defense," Adams said. "Communicating, playing fast, running to the ball and just making plays as we can. Do that and be consistent at that and we'll be fine."
And for McLendon, who will be playing in his 10th NFL preseason opener and his fourth as a member of the Jets, the password is "breathe."
"Those jitters jump in. You're good all the way up until gameday, opening kickoff. Then most guys step on the field and get to breathing extra hard. Anxiety sets in as they're waiting for that initial pop, that initial hit," McLendon said. "I tell 'em, you don't need a big pop. Just breathe. Do not go out here trying to be a superhero on the first play and tire yourself out. Just play your technique, run to the ball, and calm down. That's the biggest thing for any young guy or new guy to a new team."