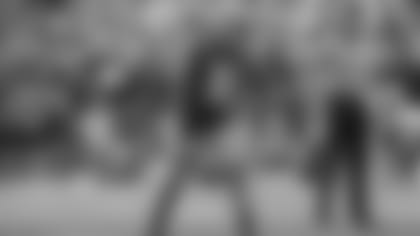 The Jets have signed linebackers Frankie Luvu and Anthony Wint.
Born in American Samoa, Luvu played in 46 games (22 starts) over four years for Washington State and recorded 110 tackles, 19 for loss, eight sacks, two interceptions and two forced fumbles. The 6'3", 235-pounder played his senior year at rush linebacker and tallied 48 tackles, 12 for loss and 6.5 sacks, earning an All-Pac-12 honorable mention.
Wint totaled 336 tackles, 20.5 for loss, six pass defenses and three forced fumbles in 45 games for Florida International. He started in nine games as a freshman and was an All-Conference USA honorable mention in 2014. The 6'0", 224-pounder earned second-team All-Conference USA honors in each of his next two seasons and ranks sixth in school history with 108 tackles in a single season (2016). Wint was a tryout player in this weekend's rookie minicamp.
The Green & White also waived cornerback Reggie Hall and defensive tackle Lord Hyeamang, who both signed with the team following this year's draft.
Hall played in 37 games for Jacksonville State and earned All-OVC honors as a junior in 2016. Hyeamang, a Columbia product, totaled 76 tackles, 14 for loss, 4.5 sacks and two forced fumbles in 39 career games (20 starts) for the Lions.