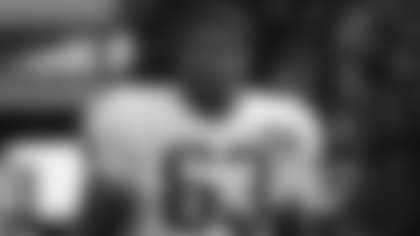 The Jets have acquired tackle Antonio Garcia on waivers via New England and have waived kicker Nick Rose.
The Patriots traded up to take Garcia in the third round (No. 85 overall) of the 2017 NFL Draft. He didn't play at all last preseason as he battled blood clots in his lungs and was placed on the Pats' Reserve/Non-Football Injury list in September.
In March, Garcia told New England media he was cleared to return to football, and in April it was reported he would be a part of the Patriots' left tackle competition following Nate Solder's departure for the Giants. However, the Patriots waived him last week.
Garcia (6'6", 302) made 42 starts at left tackle for Troy, earning All-Sun Belt first-team honors after a senior season in which he wasn't charged with allowing a sack.
Rose was acquired on waivers from the Los Angeles Chargers last month. He entered the league as an undrafted free agent out of Texas with Atlanta after the 2016 draft, then was waived in August 2016. The next year he signed with San Francisco and the 49ers made him a final cut that September.
He saw his first regular-season action with Washington for two months last year while Dustin Hopkins was injured and among his kicks in eight games. He was waived in December and acquired by the Chargers for the last two games. In 10 games last year, Rose converted 11 of 14 field goal tries and 23 of 26 extra points.