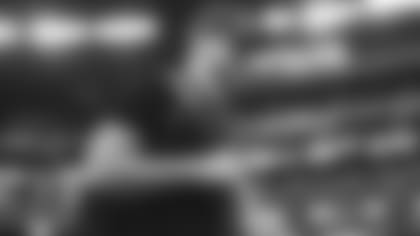 With the Jets playing in another NFL standalone game Sunday night, many cameras were hoping for another Aaron Rodgers' pregame throwing session. But Rodgers, who seemed to effortlessly walk across the field in street clothes upon arrival, never made it onto the field for warm-ups. After firring passes prior to the Jets' previous three games, Rodgers remained in the locker room moments before the Jets-Raiders contest in Las Vegas.
"He said he just wasn't feeling it," NBCs Melissa Stark said during the second quarter. "He has been working on a weight-limiting treadmill and jogging at 50 percent of his body weight. His goal this week is to increase to 75 percent."
Rodgers sustained an Achilles tendon tear on the Jets' fourth offensive snap of the season. Throughout his recovery, Rodgers has discussed using the Alter G Anti-gravity treadmill while trying to retrain his body to have the proper gait. Last Tuesday during his weekly appearance on "The Pat McAfee Show," Rodgers reiterated that he was ahead of schedule and it could be a "few fortnights" before he's back in action.
"He said he can drop back; he can cross over, but he just has to be able to get up on his toes," Stark said. "He has to get his heel off the ground in order to start running."
Nearly nine weeks after undergoing a procedure conducted by renowned orthopedic surgeon Dr. Neal ElAttrache, Rodgers gave a specific timeline for a return to action.
"His goal is to comeback mid-December," Stark said. "He said, 'I know it sounds insane, but you do a good surgery, and you have a good patient — then it makes this possible.'"
In Week 15, the Jets travel to Miami to face the Dolphins. Then on Christmas Eve, the Jets will host the Washington Commanders.