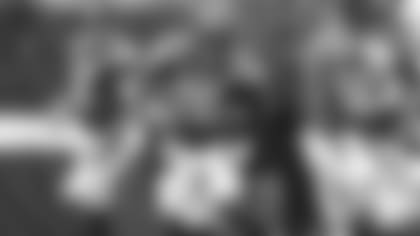 For the Jets and head coach Adam Gase there is nothing else to do but keep going -- keep practicing, keep trying to eliminate mistakes -- and hope for the best.
After Sunday's 30-10 loss to the visiting Arizona Cardinals (3-2) the Jets have played five games without a victory in the 2020 NFL season.
"We've got to go back to work, we've got to learn from this film and go and find a way to play 60 minutes," Gase told reporters after the game. "When one side [of the ball] is playing well the other's not. We get something going then fall apart on the other side. We're not giving ourselves a chance to be there in the end."
To "be there in the end" the Jets need to make plays that count when they have the opportunity to score. In their three opportunities in the red zone, the Jets converted only one time, late in the game. In a drive spanning the first and second quarters with the Jets trailing, 7-0, QB Joe Flacco and the offense engineered a 16-play possession that ate up more than 10 minutes of clock time and that began at the Jets' 8-yard line.
But facing a third-and-1 at the Cardinals' 13, Trevon Wesco, a tight end, took a handoff from Flacco and was stopped at the line. Gase opted to go for the first down on fourth-and-1, but Le'Veon Bell (back from the injured list after missing three games) also failed to gain the yard.
"I will have to look at the film to see what exactly happened," Gase said. "It looked like they had some kind of penetration up front. I have to look at the film and see what happened on both. On third down, I thought he [Wesco] was going to get it. When we've run with Wesco we've always got a yard."
Though the game was still only in the first half and the Cardinals were only leading by a touchdown, in hindsight the two plays looked to be pivotal and frustrating.
"In a way it was good to see long drives," Flacco, playing for the injured Sam Darnold (shoulder), said. "At same time we're just not able to get out of our own way. I think that's what happened on third and fourth down. Somewhere along the way we shoot ourselves in the foot."
Asked if the two plays changed the game, Jets OL George Fant said: "Yeah, they were a pretty big turning point."
After playing four straight games out of the AFC East, the Jets' next two opponents are division foes -- at Miami next week and against Buffalo on Oct. 25. After that, the schedule gets even more challenging, leaving Gase and the Jets with a prodigious challenge in turning things around.
"I'm watching these guys putting in the time and effort, trying to get things fixed," Gase said. "We get to 17-10 and end up losing the game. It's frustrating for all those guys in there. We have to come back to work tomorrow, pull together, watch film, adjust, have a good week of practice and find a way to try and win a game.
"If you watch these guys, how they go through the week, the effort, how they are trying to get it right, correct mistakes, in there day in and day out, you wouldn't know what our record was. On Wednesday and Thursday they gave maximum effort, flying around and competed. They were executing really good. That's just what I see at practice. The result just doesn't match up."