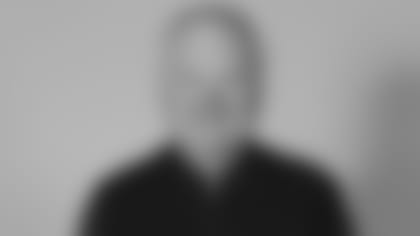 Jesse Kaye, a longtime NFL scout who had a 20-year run with the Jets from 1994-2014, died Saturday at a suburban Green Bay health care facility. He was 79.
"He loved the game, he loved scouting," said former Jets GM Terry Bradway, who promoted Kaye to director of college scouting in 2002. "He was very passionate about it. I still have handwritten letters that Jesse would send at certain times of the year. I have every one of those letters Jesse sent. That's how passionate Jesse was because he cared so much about the game, his team, his job, about the people he was with. Those are the things that really stick with me about who Jesse was."
In 2006, Kaye was part of a scouting staff under Mike Tannenbaum that brought in two offensive line anchors for the Jets in the first round in LT D'Brickashaw Ferguson (1a-4) and C Nick Mangold (1b-29). Ferguson started every Jets game for 10 years, 160 in all, earning three Pro Bowl nods, while Mangold started 164 over his 11 years and played in seven Pro Bowls.
"He was a special person," Tannenbaum said of Kaye. "In the formative years of my career, he was gracious with his time and his wisdom. He was a tremendous teammate; he was a really good evaluator who was really passionate about college scouting. He was one of the reasons we had a lot of very successful drafts. He deserves a lion's share of the credit."
After the Green & White landed the Four Aces in the first round of the 2000 NFL Draft (DE Shaun Ellis (1a-12), DE John Abraham (1b-13), QB Chad Pennington (1c-18) and TE Anthony Becht (1d-27) in addition to WR Laveranues Coles in the third round (3-78), Kaye lobbied the Jets to draft a second QB late in the draft in Michigan's Tom Brady.
Kaye, who was born in South Bend, IN, grew up in Green Bay, WI and attended Premontre High School. He played football on the freshman team at Colorado before transferring to Wisconsin, where he played quarterback in 1964-65. In 1966, Kaye started at quarterback for the University of Tampa and earned small school All-American honors. His pro career included a backup QB stint with Saskatchewan in the CFL in 1967 and time with the Miami Dolphins' taxi squad in 1970.
Beginning his second professional act with the BLESTO scouting combine service (1984-85), Kaye transitioned to the Steelers as a team scout (1986-88). Before joining the Jets, Kaye was hired by the Packers in 1989 as a pro scout in player personnel and an administrative assistant to HC Lindy Infante. Then in 1992, Packers GM Ron Wolf turned pro scouting into a separate department and named Kaye the director. 
"He loved Green Bay, he loved his daughter, he was really salt of the earth," Tannenbaum said of Kaye. "He could talk about scouting and the draft really year-round and he was always looking for ways to get better. He was very, very thorough. He was old school, really relied on the tape but in meetings was very open-minded and was a great listener. It's a sad day when someone like Jesse passes because he was great for the NFL, and he was certainly great for the Jets."
Kaye was awarded a game ball by the Jets organization during the 2007 offseason for filing 10,000 player evaluation reports in his scouting career. As times and technology changed, the handwritten notes of a scout stand the test of time.
"There were very few that were more passionate about the scouting profession than Jesse," said Jets national scout Jason Mandolesi. "He had a true love for identifying talent and his enthusiasm and conviction on players was evident. He never cared for the spotlight and was an old-school type that wanted to do things the old-fashioned way. He was a humble man who loved his family and football."