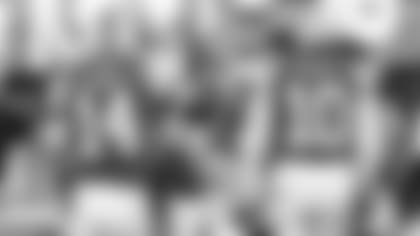 Jets wide receiver Jermaine Kearse gave his vote of confidence for quarterback Sam Darnold, expressing his comfortability with the rookie getting the nod under center.
"Sam has done a great job in the preseason in being able to pick up the playbook and the little things that Josh [McCown] has been able to teach him," Kearse said. "He's been very accepting of Josh's coaching."
In three games (two starts), the USC product completed 29 of his 45 passes (64%) with two touchdowns and an interception. Kearse caught one ball from Darnold in preseason action and the wideout said the No. 3 overall pick has made some throws that "wow" him in training camp and the preseason.
"I can remember there was a play against Washington when I didn't think he was throwing it to me and he literally hit me in the chest," Kearse said. "I had no choice but to catch it. That just shows his talent. He's able to throw us open. That's something special in a quarterback and something we're looking forward to."
Since late April when Darnold joined the Green & White, he's shown signs of poise and progress, which are both things the coaching staff has touted him for. But Kearse believes Darnold's biggest improvement comes inside the huddle.
"Just being able to call plays," he said. "Being in a West Coast offense, the play calling can be really wordy. At first, he kind of struggled with it. He couldn't really spit a play out. As he gets more comfortable and confident, you can hear it in the huddle. He's calling the plays out quick. He sees what he sees and he knows what he knows. He'd be able to make the calls and the checks to get us in a successful play to run."
As the team prepares for the season opener Monday night against the Lions, Kearse joked about his locker placement (next to Darnold) when asked what advice he has for the rookie. While the seventh-year veteran hasn't practiced this week because of an abdomen injury, he doesn't believe the 21-year-old Darnold will be fazed by the bright lights in the Motor City.
"That was the first thing I noticed with Sam, his composure and how poised he can be out there," Kearse said. "There was never a moment where I've seen him wide-eyed. Whether he makes a mistake or not, he corrects it and keeps pushing. That's something you like to see out of a quarterback let alone a rookie quarterback. That's something I was very impressed with when I first saw him. Hopefully that continues and he'll continue to grow into the player that he wants to be."