The Jets have released wide receiver Jeremy Kerley and tight end Jeff Cumberland.
Kerley was the Green & White's fifth-round choice (153rd overall) in the 2011 draft out of TCU. He carved out a role as a contributor all around the offense and as the team's primary punt returner in his five seasons.
Kerley's most productive campaigns were 2012 (56 catches, 827 yards, two TDs) and '13 (43 catches, 523 yards, three TDs). He also was effective when rushing with 18 carries for 133 yards (7.4 yards/carry). And he threw four passes, completing his first two, for 41 yards in '11 and for 42 yards in '12. He has 182 career receptions for 2,225 yards (12.2 yards/catch) and nine touchdowns.
"JK" saved his most productive games for the Patriots. His lone 100-yard receiving game came at New England in 2012 (seven catches, 120 yards), and the next year he had a career-high eight catches for 97 yards and a TD, with seven grabs coming on third down and a franchise-record six of them converting third downs to firsts in the 30-27 overtime home win over the Pats.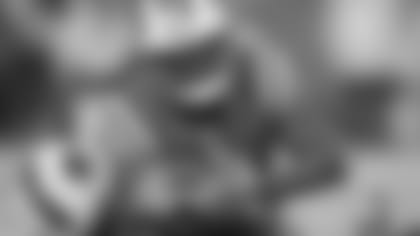 As a punt returner, Kerley turned in the last touchdown return by a Jet, his 68-yard score in the 2012 season opener against the Bills. He had a career-high 48 returns this past season for an 8.6-yard average and for his career averaged 9.3 yards on 134 returns.
Cumberland was signed as an undrafted free agent after the 2010 draft out of Illinois and spent his first six NFL seasons with the Jets. He was little-used as a rookie and then tore his Achilles tendon three games into the '11 season.
He finally got a head of steam in 2012-14, putting up very similar receiving numbers in each of those seasons for totals of 78 receptions for 1,002 yards and 10 touchdowns in that span. For his Jets career he had 86 catches for 1,119 yards (13.0 yards/catch) and 10 TDs.