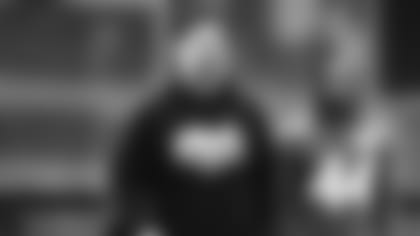 This is one in a series of articles that will also appear in the New York Jets 2023 Yearbook, which will be published later this summer.
Jeff Ulbrich's defense last season was one of the NFL's top units that featured three Pro Bowl players and the league's Defensive Rookie of the Year. While many teams would be satisfied with that performance, the coordinator knows there's another gear in store for this defense in 2023.
"You started to see the fruits of our labor with the talent that we added, whether it be in free agency or the draft," Ulbrich said. "The really cool thing about this group is that there would be a lot of groups out there that would definitely take a deep breath after a year like that, saying, 'We got this.' And that is absolutely not the mindset of this group. They believe collectively, every single guy on that defense, that we're just scratching the surface."
Ulbrich, a 10-year NFL linebacker, begins his 11th season as a pro coach and his third directing the Jets' defense. While the Green & White ranked in the top five in almost every NFL metric by the end of year, Ulbrich has a plan of what to focus on in the coming season that will make the Jets championship-caliber.
"You have to play very consistent football in every phase, but you've got to get the ball," he said. "Those are the defenses that win games, win championships. That's where we need to make an enormous jump. That's not just the guys in the back end picking the ball off. It's applying pressure, it's me calling the correct calls, putting guys in position to be successful. It's all of that."
While the turnovers have always been a focal point, it comes down to the way in which the Jets play defense. Ulbrich has been emphasizing setting the tone for all opponents with sheer aggression.
"A lot of it is just getting better at what we do," he said. "When the pass rush improves, we affect quarterbacks at a higher level, and that's when picks happen. The emphasis has always been to be a physical defense. We want violence to be one of those first words that you speak about when you talk about the Jets defense, and there's an element of violence getting the ball off people.
"It's a little bit all those things, but it's something that we collectively, players and coaches alike, know that that's the next thing that we have to get done here."