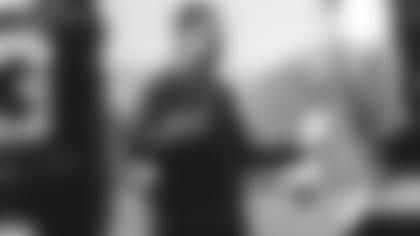 Jets defensive coordinator Jeff Ulbrich doesn't have a lot of new pieces on defense – 11 players who took at least 300 snaps return and 8 with at least 600 – but believes his unit, which finished No. 4 overall in 2022, will improve by practicing against the offense's shiny new toy in Aaron Rodgers.
"It's huge," he said. "That's nothing to be said about any of the other guys. We're just talking about a Hall of Fame caliber player. Every year you try to evolve schematically, add a few wrinkles here and there. There are times where some of those schematic wrinkles, you don't know the pitfalls. You don't know the snakes in the grass, so to have a quarterback like him to really exploit some of the new stuff that we have, it gets those necessary scars and keloids, especially when you're trying to do new stuff, so he's going to provide that. Plus, he's just going to sharpen us up because when you're off by that much, he's going to capitalize, so our attention to detail just goes to another place."
Ulbrich, who plans to watch Jets-Packers film with Rodgers from last season's game at Lambeau Field (the Jets won, 27-10; Rodgers threw for 246 yards, 1 TD), added: "I've been around a lot of superstars in this league that are very standoffish, that are very isolated, do their own thing, and he's as inclusive as I've ever been around especially for a player of that caliber. Constantly giving us feedback about what he sees on us defensively, giving us feedback as far as just getting tighter as a team and committing to a process at a higher level. Yeah, he's going to change the course of these young players' careers forever."
The Green & White defense ranked in the top 10 in the NFL last season in yards per game (No. 4), passing yards per game (No. 3) and points allowed per game (No. 4), so there is marginal opportunity for improvement this season. Where the group can advance is in takeaways -- it forced 16 turnovers last season, the third-fewest in the league.
S Lamarcus Joyner, currently a free agent, led the Jets with 3 interceptions. Michael Carter II, Jordan Whitehead and Sauce Gardner each had 2 picks. Ulbrich's challenge for Gardner, the 2022 Defensive Rookie of the Year, is to pick off opposing quarterbacks this season.
"Obviously, he led the league in passes defensed [20] and had an amazing year, especially for a rookie, but that's the next step for him to become the great corner that we all know he can be," Ulbrich said. "The work ethic, again, he is with all these other guys, they work the right way. In my 20-plus years in this league, I've just never seen a collective unit so committed to the process and it's really cool to be around."
The most turnover for the defense comes at defensive tackle. The Jets lost Sheldon Rankins and Nathan Shepherd in free agency, but added a pair of veterans in Al Woods and Quinton Jefferson, who both played for Seattle last season and are coming off career highs in sacks – 5.5 for Jefferson, 2 for Woods.
"You couldn't ask for higher character individuals, so from that standpoint, the organization, Joe Douglas, Robert Saleh, Rex [Hogan], they've done an exceptional job of replenishing that position," Ulbrich said.