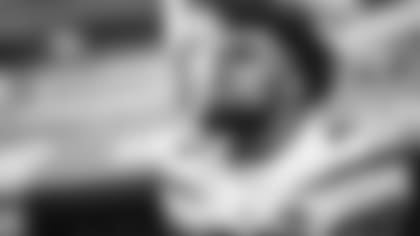 For a guy with the given name of Javelin who was a standout on the running track (and in the weight room) throughout his life, his opinion about the most important feature of playing the nickel position would seem to be a disconnect.
"I'd say eyes are the key," said Jets' rookie corner/nickelback Javelin Guidry. "And you've got to be physical. You're a faster linebacker, need to cover the slot and get your nose in the tackles. You have to be able to do both mentally and physically and prepare as well. It makes the game easier."
After leaving the University of Utah a year early, Guidry was one of the stars of the 2020 NFL Combine. His eye-opening numbers (he ran a 4.29 in the 40-yard dash, making him and University of Alabama wide receiver Henry Ruggs III at 4.27 the only two players to clock under 4.3 seconds; and he bench-pressed 225 pounds 21 times) for some reason did little to increase his draft capital.
"That weekend was disappointing," the 5-9, 193-pound California native said on The Official Jets Podcast. "I still believed in myself and where I could go to make most of my opportunities." He added: "I had one meeting with the Jets. After the draft, I felt it was the best place for me within the system."
Initially signed as an undrafted free agent, Guidry was waived during the final roster cuts in early September, then added one day later to the practice squad. He was elevated to the active roster on Oct. 1 and saw his first action in the NFL against Denver.
"This last year, it's been a blessing," he said. "It's been a long year as a rookie, they said it would be. Declaring for the draft and now, every day is like a new day."
Guidry saw limited playing time, initially on special teams, from Week 4 through Week 11 (the game at the Chargers, in his hometown of Inglewood, Calif.). He made his first impact in the Week 12 game against Miami with a pair of solo tackles and one forced fumble. Against the Raiders the next week, he took 46% of the snaps on defense, made 4 solo tackles and forced 2 fumbles. Last week at Seattle, Guidry (who has taken over the nickel position with Brian Poole out injured) was on the field for 63 of 73 snaps (86%), the most of his professional career, so far. It was also his first start in the NFL.
"They want us to violently attack, try to get it out, to punch the ball," Guidry said. "I've been practicing it to be able to do it in the game. For advice, I turn a lot to Arthur [Maulet], he's been a great mentor to me. And the rookies as well -- Bryce [Hall], Lamar [Jackson] and Ashtyn [Davis] -- talking about our experiences and learning from each other."
As one of the promising young Jets players, Guidry is well acquainted with picking the brains of his veteran teammates like Maulet. It's been a prominent feature of his life and athletic career since he was a toddler. Most of his family members have gone to UCLA. His father [Javelin Sr.], uncle [Paul] and brother [Elisha] all played/play in the defensive backfield for the Bruins (his mom also attended UCLA). The younger Javelin, however, was not recruited by UCLA, heading instead to Utah. "It was my dream school," he said. But it was not to be.
From an early age, Guidry's father and uncle were well aware they had a speedy young man on their hands. Guidry said that he's often toyed with the notion of pursuing an Olympic berth on the track, but said that he kept running track (100 meters and 4X100 relay) to help enhance his speed to play football.
"At a young age, 8 or 9, I played soccer and always chased people down running with the ball," he said. "I played a little Pop Warner football and was a running back but my dad told me that running backs take too many hits. He said I should move to defensive back where I could compete, hit people and play a long time."
No one knows how long that "long time" will be for Guidry in the NFL. What is certain is that on Sunday he and the Jets will return to SoFi Stadium in Inglewood, this time to face the Rams.
"It's always great to go back to California," he said.