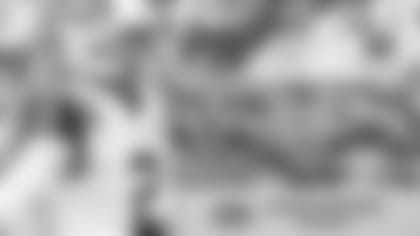 The Jets have never sent a placekicker to the Pro Bowl but that will change in January. Jason Myers, along with teammates Jamal Adams and Andre Roberts, was chosen to represent the club at the NFL's all-star game in Orlando, FL.
Myers has had a career year with the Green & White, ranking fourth in the NFL in scoring with 118 points. The fourth-year veteran has connected on 31-of-33 field goal attempts (93.9%) and needs three more kicks to tie Jim Turner's team record of 34 field goals in 1968 (14 games). If Myers maintains his accuracy rate over the last two games, he'll break Nick Folk's season accuracy rate of 91.7% set in 2013.
Myers' five makes from 55+ yards is an NFL single-season league record and he has also set the franchise record for most 50+ yard field goals made in a season with six. With two games remaining, Myers' 53 touchbacks are also a franchise record.
"I can't say enough good things," special teams coordinator Brant Boyer said of Myers, who was claimed off of waviers from Seattle on Aug. 21. "He doesn't kick in a dome. He's faced some windy conditions, 15-25 miles an hour winds I think in three or four of the games. And he's kicked right through those conditions.
"I think the guy has done an outstanding job. He's exceeded all of our expectations, certainly mine. He's a professional, does everything and deserves every accolade he can get. I think he has done a fantastic job and he's meant a hell of a lot to this team, I know that."
After his seven-for-seven performance in Week 6 against the Colts, Myers became one of eight players in league history with at least seven field goals made in a game and the sixth to hit seven without missing an attempt. Myers accounted for 24 points (7 FGs, 3 PATs), the second most in league history and his 274 combined yards on the seven kicks established a new NFL record.
The Pro Bowl will take place on Jan. 27 at Orlando's Camping World Stadium. The NFL equally weighs votes from fans, players and coaches to determine the rosters. This marks the first time the Jets will send two special teams players to the Pro Bowl.
Top Snapshots of the Kicker During His 2018 Pro Bowl Season