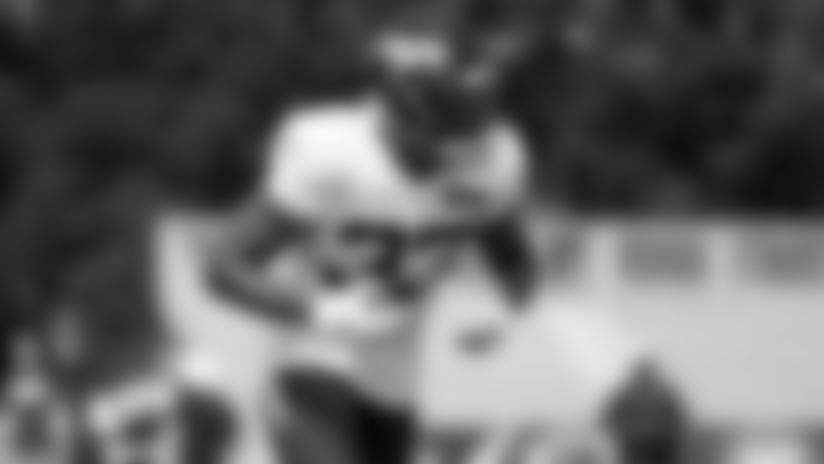 The Jets are thin at cornerback. Top corner Trumaine Johnson is week-to-week with a hamstring injury and rookie Kyron Brown, Johnson's fill-in on the outside in sub packages, exited Monday's workout with a tight hamstring himself. Star safety Jamal Adams told the media he is ready to switch positions if called upon.
"Next up. If they need me to go to corner, I'll go to corner or whatever. I'm dead serious," he said. "But next up, obviously things happen."
While Adams is one of the game's most versatile young players, don't expect a position change anytime soon. New Jets defensive coordinator Gregg Williams has stressed the importance of cross-training to his group of DBs.
"You just have to know the job first. As you get that, you can expand your vision as far as learning other peoples' jobs," Adams said. "So I think everybody is doing a phenomenal job and being very diverse in the back end. I think that helps us out."
When Brown, an Akron product, couldn't finish the club's latest workout, the Jets turned to third-year veteran Arthur Maulet to play outside the numbers in nickel and dime packages. The Jets are figuratively juggling their corners on the run and they are also literally running gassers in the middle of practice.
"It's like adversity in a way and it tests us as far as how good of shape we are in as far as talking when we're tired," Adams said of the runs. "As a defense when we get tired and you can't talk, that's when busts happen and that's when a lack of communication and big plays happen. So it's good that we do that before we go to 7-on-7s, so we can communicate and fit on the same page."
Adams continues to patrol the backfield with veteran safety Rontez Miles. While Marcus Maye was taken off the PUP list Sunday, the Florida product is precluded to individual drills and 7-on-7 work.
"It's always good to see him progressing and getting back out there. The next step is going to be when he is fully out there with me and I'm excited to have him back," Adams said.
No matter the adversity, Adams and the Jets' defenders won't be allowed to feel sorry for themselves.
"We have a feelings report. Basically if you get upset about something that someone calls you out on or whatever it is, that's a sensitive fine," said Adams, the Green & White's 2018 Team MVP. "We don't tolerate that as a defense, we communicate and we hold each other accountable. As long as we're on the same page, we'll be fine and we'll give ourselves a chance."