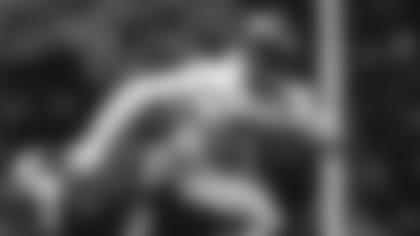 Jamal Adams emerged as a young leader the moment he stepped foot onto the field in the Green & White back in 2017. The 6'1", 213-pound safety's high-energy, vocal presence and non-stop motor have always made him a staple on the team. And with a new, young talent in town in defensive lineman Quinnen Williams, Adams thinks the rookie will find his transition on the field to be smooth.
"We're constructed in the right way," said Adams. "We learned from the coaches at our colleges, and all you do is just bring it here. You have to be coachable and understand that you've got to earn your respect in the locker room, and you just go out there and play ball. So Quinnen is going to be all right. He's going to make plays and I know he's definitely going to help us in the back end and I'm excited."
Part of the third-year safety's confidence in his younger teammate stems from the fact that they both attended SEC schools, with Adams playing at LSU and Williams at Alabama.
"It's the best of the best. You're playing against guys that are future first-rounders, second-rounders, whatever it is," said Adams. "You're going out there and competing, so any time you can compete with the best of the best, I think that's going to bring the best out of you."
The best figures to be yet to come for Adams, who concluded his second season with the Jets by not only earning a Pro Bowl start, but also receiving the game's Defensive MVP award. This accolade came after the 2018 season in which he recorded 112 tackles, 3.5 sacks, 12 pass defenses, one interception and three forced fumbles.
One key factor in the star safety's continued success will be adjusting to the new scheme of defensive coordinator Gregg Williams. It's a challenge Adams not only welcomes but looks forward to.
"He's coaching us hard. He wants the best out of us and you can run through a wall for a coach like that," Adams said of Williams. "I think our whole staff is like that. Our whole staff has a lot of energy and different backgrounds. They've been with each other in different places but to have all of them in one spot, I think it could be special for us, and we're excited to have them all."