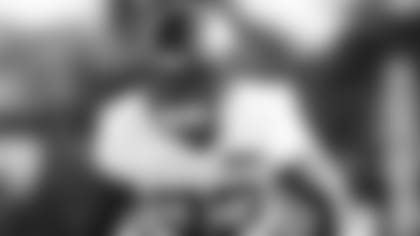 Jamal Adams likes the vibe at his third professional training camp. The competition has been fierce and the roster —including newcomers RB Le'Veon Bell and LB C.J. Mosley — has more accomplished names than in recent memory.
"It's a lot of energy, a lot of swagger. Everybody's competing out here, coaches included and that's how you get better as an organization," Adams told reporters Friday. "Every time we come out to practice, it's definitely a show."
But Adams, a master showman himself, said the team is taking a workmanlike approach this summer.
"When I say a show, it's doing the right things," he clarified. "It's doing the little things and competing at a high level."
Under a new defensive coordinator in Gregg Williams, the intensity has ratcheted up quite a bit. No ball hits the ground without a group of defensive players running to the loose change. Williams wants four takeaways a day and a pair of forced fumbles from nickel corner Brian Poole led to two during the second training camp practice.
"G-Dub brings a different swagger to the defensive side of the ball," Adams said. "I can tell you we're going to be in shape – I can definitely tell you that and we're going to be flying around the ball."
The secondary has its questions, but Adams is not one of them. Already one of the top safeties in football, he has opened camp alongside Rontez Miles as Marcus Maye (shoulder) is on the PUP list. Trumaine Johnson is hoping to return to form under Williams and Darryl Roberts is penciled in across the way with Poole at nickel. After that, there is a lot of youth and inexperience.
"We have a long ways to go. That's where we're going to start off," Adams said. "I don't want to put any expectations on us because at the end of the day we just have to go out there and do our job."
Adams, the sixth overall pick out of LSU in the 2017 NFL Draft, became the fifth-youngest Jet to capture a Team MVP when he was voted it by his teammates last December. He also earned his first Pro Bowl nod, finishing with 112 tackles, 3.5 sacks, 12 pass defenses and 3 forced fumbles. Blessed with wonderful football instincts, Adams remains in constant motion and is a physical force.
"When he hits the grass, it's all ball. He brings the energy," said head coach Adam Gase of Adams. "He gets both sides going because he is going from the time he gets out here until the time he gets off the field and probably a little bit after. That does something to guys. You feel it, he's got juice to him. It's fun to be around. It's fun to coach against. When you're on opposite sides in practice, it's just one of those things where you're glad you're on the same team as him because he brings fire every day."
What Adams will not bring this summer is any bold proclamations. The show is about doing the right things and if that happens, the ending will take care of itself.
"We're not putting expectations on our season," he said. "We're not doing that regardless of who we added to the culture, to the organization. It's about day-by-day, taking it one step at a time and just getting better."