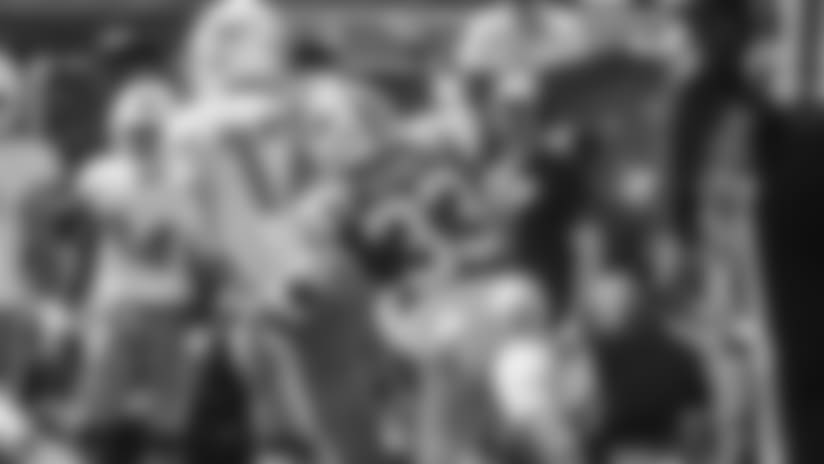 For the better part of four quarters, the Jets defense was stout against Miami — they surrendered 257 total yards, recorded two fumbles and four sacks in the team's 20-12 loss to the Dolphins. But the unit couldn't get off the field down the stretch.
"Opportunities are big, especially in games like this, a division game," safety Jamal Adams said. "We have to take advantage of all opportunities. We didn't do that. I believe we lost the turnover margin. As a defense, we have to get more turnovers and create those things to help our offense out.
"At the end of the day, it's a team game. It's only going to be about us. Credit to them. We didn't come out and play our best ballgame. It took a half to come out, execute and play Jets football. We didn't do it, we didn't execute when we needed to. We missed out on opportunities."
With 3:36 remaining in the game, Ryan Tannehill dumped the ball off to a wide-open Frank Gore, who kept the chains moving with 19 yards on third-and-19 with the Jets down 20-12. Three plays later, facing third-and-6, Tannehill iced the game as he kept the ball on a read-option and picked up the first down on an 8-yard scamper. The Dolphins signal caller had success on the ground throughout the game as he was responsible for 44 of the team's 135 rushing yards.
"They were zone-read types of plays," head coach Todd Bowles said. "We should've had people out there. It was a good game plan on their part. It wasn't good game-planning on our part."
In regard to Gore's long third-down conversion, Bowles said somebody missed a pickup and Adams took responsibility for the breakdown in coverage. After a strong showing Week 1, the second-year safety played well again as he finished second on the Green & White with seven tackles and recorded a strip-sack fumble on the Dolphins' second possession of the game.
"It's disappointing to lose," Adams said. "We don't have to question that. We understood we had to let the game go, understood the pressure that came with it, us winning that big in last week's game, but we have to move on. Credit to them, they came out and beat us. They were on their A-game and we weren't."
Similar to last week, the Jets have already begun turning the page. With their second consecutive short week, both Adams and Bowles stressed moving forward as the team prepares to play the Browns Thursday night, which will mark the Jets' third game in 11 days.
"It's not a one-day rule with this game, it's right now," Adams said. "You have to let it go. It's tough. I hate losing, I'm a sore loser. But you have to let it go. In this league, you have to learn to move on and hopefully we'll go out there next game and capitalize."
"We can't carry this into tomorrow because we play on Thursday," Bowles said. "We have to lick our wounds tonight and keep it moving."
Best Snapshots from the Home Opener at MetLife Stadium