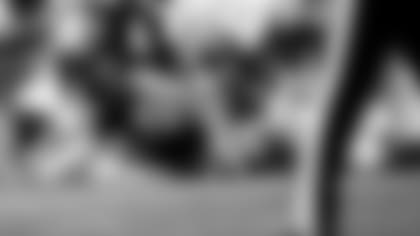 Like typical stifling Atlanta weather in August, the Jets made the Falcons feel the heat in the Green & White's second preseason game.
Jamal Adams registered the Jets' first sack of the night, bringing down quarterback Matt Ryan for a loss of eight yards to nullify a play-action pass. Adams hovered over the right side of the offensive line and hesitated for a split second before shooting the gap between C Alex Mack and rookie RG Chris Lindstrom and getting home to Ryan. The Pro Bowl safety totaled four tackles Thursday night in one quarter of work.
In the second quarter, linebackers Brandon Copeland and Avery Williamson found success in the backfield on consecutive plays and forced the Falcons to punt. Copeland, who had a career-high five sacks with the Jets last year, worked RT Ty Sambrailo upfield before cutting back inside and meeting Ryan in the pocket.
On third-and-10, both Williamson, who was later ruled out with a knee injury after colliding with CB Tevaughn Campbell, and LB Neville Hewitt lined up directly over both A-gaps. The 'backers ran a stunt once the ball was snapped and the 6'1", 246-pound Williamson, who started on the left side of the center before moving to the right, beat C Wes Schweitzer for the sack.
"We're just trying to give all of these guys opportunities to make plays," head coach Adam Gase said of the defense. "I think it's good when [Gregg Williams] does that (sends pressure) because these guys have to communicate and they have to make the adjustments because they don't know what formations are coming out. They're going off the rules they've been working on since the spring, and there's a lot of new guys in there too."
The Jets, who were without DL Leonard Williams, got after Ryan early and often. Henry Anderson drew a holding infraction early and rookie DL Quinnen Williams had an impressive third-down pressure of Ryan, showcasing his pure power as he pushed Jamon Brown into his quarterback's lap.
"I'm definitely getting stronger and smarter in my attack against every offensive lineman I go against," Williams said. "Every day I watch film against our own offensive line, I talk to the offensive line coach and offensive coaches in general. I'm trying to get a good feel for different calls, different sets and techniques. I feel like I'm growing every week and getting better every week. I have a lot of stuff to improve on and a lot of stuff to do."