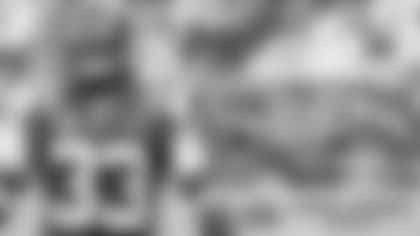 The NFL announced Tuesday that Jets safety Jamal Adams has earned his first Pro Bowl invitation.
Adams, who becomes only the third Jets safety to get selected to the Pro Bowl since the merger, has blossomed in his second professional season and become one of the top defensive players in football. He is currently the only NFL player — regardless of position — to have at least 70 tackles, at least 2 sacks, at least 1 forced fumble and at least 7 PDs this season. His totals are 94 tackles, 3.5 sacks, 3 FFs and 12 PDs.
"He's probably playing some of the best football that I've ever seen," said head coach Todd Bowles recently of Adams. "He's definitely playing the best of the team and he's all over the place whether it's coverage, whether it's run, whether it's blitzing, whether it's mental in the classroom, his weightlifting. He's done an outstanding job, he's been an outstanding pro and he's an outstanding player."
After racking up a third-down sack and third-down tackle last Saturday against the Texans, Adams has a team-leading 13 tackles on third and fourth downs to prevent conversions. He is a key reason why the Green & White own the NFL's No. 2 third-down defense while holding opponents to a conversion rate of just 33%.
The 6'0", 214-pound Adams, a LSU product who was the No. 6 overall selection in the 2017 draft, also paces the defensive attack with 12.0 tackles for loss/no gain on runs and receptions and 8.5 tackles for loss. His 3.5 sacks are already the fourth-most by a Jets defensive back in any season.
"He (Adams) never gives up on the play. He has a motor like I've never seen before," said Texans star wideout DeAndre Hopkins of Adams before the latter registered four tackles and a sack against Houston Saturday. "He's the leader of that defense. You can tell by his play."
After being name a third alternate for the AFC's Pro Bowl team last season, Adams along with K Jason Myers and KR Andre Roberts, will represent the Jets when the stars of the AFC and NFC collide at Orlando's Camping World Stadium on Jan. 27, 2019. Additionally, ILB Avery Williamson has been named a fourth alternate. The NFL equally weighs votes from fans, players and coaches to determine Pro Bowl rosters.
Best Images of the Second-Year Safety During His 2018 Pro Bowl Season