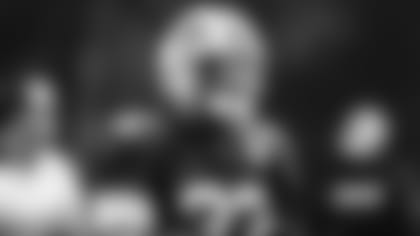 It's safe to say Jets safety Jamal Adams is excited to kick off the season on Monday Night Football against the Lions.
"Honestly, I'm looking forward to it. It's different for me," Adams said. "I've dreamed about playing on Monday night. I've dreamed about playing on Sunday night. Sundays, period. Monday Night Football, there's nothing like that. I'm looking forward to it. It's going to be exciting. We're playing a hell of a ballclub in a great atmosphere and I know the energy is definitely going to be there."
The LSU product said it's going to be tough to watch games being played Thursday night and Sunday, and then wait all day Monday to finally lace up the cleats after a hiatus of more than eight months. More so than the bright lights, Adams, who never lacks energy, is excited to match up against Lions quarterback Matt Stafford.
"No. 9 is going to sit back there in the pocket. He gets paid the big bucks," he said. "As everybody knows, he can throw the football. We have to do our best to get him off his rhythm. At the same time, he has a lot of great targets he can get the ball to and we have to, hopefully, slow those guys down."
Adams and the rest of the secondary will come into focus in Detroit with Stafford under center and his weapons Golden Tate and Marvin Jones. Tate and Jones both had 1,000-yard campaigns in 2017 and they complement each other well — Tate is a shifty wideout and Jones stretches the field. Communication will be key and defensive backs coach Dennard Wilson said Adams is more vocal than last year, which may be hard to believe.
"He sees things quicker," Wilson said. "He can anticipate instead of guessing and as long as he's anticipating instead of guessing, he'll make more plays.
"Last year he was vocal, but now he really knows what he's seeing. There's a difference between having energy and being vocal and having a thorough understanding of the calls on the defense, where everybody is at and what the offense is trying to present. He's a lot better in that area."