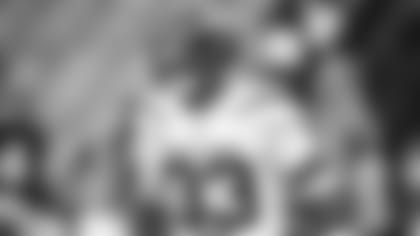 Jamal Adams was asked Wednesday about being turned loose the Jets' past two games, when he recorded a combined five sacks. Adams smiled and said: "Yeah, I have." He read between the lines and added: "If you're asking if I'm going to beat the record, yes I will beat the record. That's something that I will get."
Adams, 24, was referring to S Adrian Wilson's eight-sack season for the Cardinals in 2005, the most by a defensive back in NFL history. Adams has six sacks, already the most for a DB in team history with six games to play. The 6-1, 213-pound safety leads the team with 6 sacks, 11 QB hits, 2 forced fumbles and 68 tackles, and is tied (with Darryl Roberts) for the team lead with 7 pass defenses.
"He's a real problem for us," Raiders Coach Jon Gruden said ahead of Oakland's visit to MetLife Stadium on Sunday. "He's a great blitzer. He plays with a linebacker mentality. He's a trainwreck. He's a hard man to pick up in blitzes, he has great range, he's a very good tackler, he can cover when you ask him to and he's a premier effort player in all of football. I saw him run down [Jaguars RB Leonard] Fournette, which is maybe the most impressive effort play I've seen this year. I admire him a lot. I wish I had six of those."
Adams said he's been put in positions to make plays but admits he's also relied on "educated guesses." He added: "Sometimes I anticipate right and sometimes I don't, but lately I have. I've been getting lucky." The veteran Oakland QB Derek Carr, who's thrown for 2,494 yards, 15 touchdowns and 5 interceptions while completing 72.3% of his passes, presents a different test for Adams and the Jets defense. In the two previous games, the Jets faced rookie quaterbacks in Daniel Jones (Giants) and Dwayne Haskins (Redskins). Adams said he has no plans to change his approach against Carr, a three-time Pro Bowler.
"I don't play this game to be careful," Adams said. "I have to be smart. I'll put it like that. I know what type of offense Jon Gruden likes to run, I have a lot of respect for those guys and what he does and what he brings to the game. That group over there is well coached, well prepared each and every week. They're going to watch film and understand what we put out as a defense the last two or three weeks, so we have to be smart. We have to play our brand of football.
"We just have to continue to do our thing and not get discouraged about who we're playing. It's all about us, it's never going to be about the opposing team. I still have respect for those guys over there, but we have to handle our part to the best of our ability."
Adams and the NFL's No. 1 rush defense will also have their hands full Sunday against the Raiders. Oakland's No. 9 rushing offense features rookie RB Josh Jacobs, whose 923 yards on the ground are fourth in the league. The Green & White are on a two-game winning streak, with the Bengals and Dolphins to follow Sunday's game, Adams said that the team is not looking ahead and is focused on the Week 12 matchup.
"It's the biggest game because it's the next game," Adams said. "That's what's important. We're looking forward to the challenge. They've been playing some good ball and hopefully we can slow those guys down as best as we can."
See Best Images from Wednesday's Practice at 1 Jets Drive