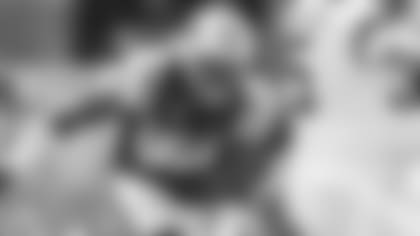 The Jets are on a three-game slide after dropping a one-sided affair Sunday in Jacksonville. As many question what is ahead for a Green & White squad that is set to embark on the season's second quarter, the Jets are determined to show their resolve.
"You can't have panic. I trust and believe in every guy in this locker room," veteran cornerback Trumaine Johnson told reporters on a conference call. "It's a long season and I understand we're in a hole right now, but we have a lot of games left and I trust and believe in everyone in this locker room to turn the season around."
Head coach Todd Bowles said his club will have to do some soul-searching early this week before turning the page to the Broncos. The Jaguars dominated for long stretches against the Jets, totaling 503 yards of offense in a 31-12 triumph.
"We'll correct the mistakes moving forward. Film didn't look as bad as it was — we're not as bad as the film looked and we're not as good at some of things we did either," Bowles said. "So, we're going to look ourselves in the mirror and we're going to come back on Wednesday, get ready for Denver and we're going to correct our mistakes. And we're still going to get ready for Sunday. We have some home games coming up, so we have to respond."
After starting the 2018 campaign with three of four games away from home, the Green & White won't leave New Jersey for close to a month as the Broncos (2-1), the Colts (1-3) and the Vikings (1-2-1) will visit MetLife Stadium in Weeks 5, 6 and 7 respectively.
"It's real critical because we haven't won our first game at home yet. These next three games at home — we really have to dominate at home," said DL Leonard Williams. "If anything else, we have to win at home. We have three coming up, these back-to-back games, and for ourselves and for the fans and for all the doubters out there, I think we have to do good these next three games."
Johnson, who was beat by Jaguars wideout Donte Moncrief on a 67-yard scoring play, pointed to lack of execution overall and included himself. The veteran corner said the Jets will remain positive with the majority of season still ahead.
"Keep pushing. You can't get negative right now," said Johnson. "We're all we got, so no need to be negative. We understand we're in a hole right now being 1-3, but keep pushing. We still have goals and it's a long season."
After racking up a sack and a pair of tackles for loss, Williams said the Jets have the right mix to patch things back together.
"What I love most is the guys' attitudes on the team," he said. "Everyone wants to play for one another and that says a lot. Everyone is locked in. We know we have taken some Ls, but everyone is still locked in and bought into the system. That's what I love about the team and the direction we're taking right now. I feel we have all the right pieces and it's just a matter of gluing it together."
Rookie signal caller Sam Darnold, just 21 and four games into his NFL career, sounded like a wily veteran this afternoon. The Jets may be down now, but they think better days are ahead.
"You just have to keep the same mindset, one team one goal," Darnold said. "We're all we got. We're just going to continue to think about it like that. Just understand it from a team's perspective, just sticking together and continuing to prepare the way we have. We're very confident. Like I said in the beginning, very optimistic that our offense, defense, special teams, all phrases, it's going to start clicking."