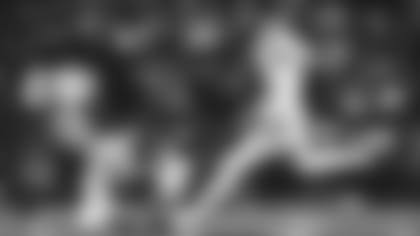 We put a bow on our Inside the Numbers Season Wrap series with a multifaceted piece on the Jets' specialists in 2021. And we start off with that late arrival who made up for lost time as the Jets' placekicker down the stretch ...
How Eddy P Gets His Kicks
Eddy Piñeiro climbed aboard in the nick of time. After Matt Ammendola departed and Alex Kessman was one-and-done, the Jets needed someone to steady their field goal and extra point units. Turns out Piñeiro was just the one for the job.
"I think I was able to come in and help the team out," he told newyorkjets.com's Caroline Hendershot. "Obviously they were going through a kicking situation, so it was fun to come in, make my kicks and keep it positive with the guys."
Piñeiro did miss one placement, an extra point that was blocked against Jacksonville. Other than that, he was right on the Eddy money — which shouldn't surprise his fans who've followed him since his U. of Florida days.
You see, Piñeiro has this weird talent. He kicks better from 50 yards and longer than he does from 49 and shorter. Counting all his game kicks from his two Gators seasons plus 2019 with the Bears and five games with the Jets, he's converted 86% of his field goal tries (61-of-71) from less than 50. But he's converted 100% of his tries from 50-plus (8-of-8).
Piñeiro hit his stride with his two longest kicks this season in the Green & White's last two games — the 51-yarder to end the first half vs. Tampa Bay and the third-quarter 49-yarder to keep the Jets in the season finale at Buffalo.
And that brings us to one last amazing Piñeiro factoid. He converted all eight of his FG tries in Games 13-17. How many kickers in franchise history were perfect on their first eight kicks for the Jets? Only one. Rookie Cary Blanchard replaced veteran Jason Staurovsky in Game 5 of the 1992 season and drilled his first nine tries.
Going 8-for-8 is neat but not necessarily predictive of success. Blanchard missed his last four kicks as a Jet in 1993 — including three trying to propel a frozen chunk of pigskin through the uprights at Buffalo in a 16-14 loss — and was gone. Meanwhile, Nick Folk hit six of his first eight and 82% of his 216 career tries as a Jet, now-broadcaster Jay Feely began 6-of-8 in 2008 and finished 57-of-69 (82.6%) through '09, and Jason Myers went 7-of-8 to start and 33-of-36 overall for the best FG season in Jets history at 91.7% in 2018.
Another Braxton List
Second but far from least is one last '21 ditty on Braxton Berrios, the Jets' All-Pro first-team returner. We came up with a neat little metric to measure all the Jets and Titans returners by way of answering the question: Which punt and kick returner in franchise history, given one KO return and one punt return in a game, might produce the most yards?
As you would figure, Berrios is high up in that conversation. Here are the top four Jets in terms of PR+KR season average:
Table inside Article

| Jets/Titans Returner | Season | PRs / Avg | KRs / Avg | Total / Avg |
| --- | --- | --- | --- | --- |
| Dick Christy | 1961 | 18 / 21.3 | 15 / 24.0 | 33 / 45.3 |
| Brad Smith | 2009 | 2 / 13.5 | 10 / 31.0 | 12 / 44.5 |
| Braxton Berrios | 2021 | 15 / 13.4 | 28 / 30.4 | 43 / 43.8 |
| Andre Roberts | 2018 | 23 / 14.1 | 40 / 29.4 | 63 / 43. 5 |
The Touchback Master
Braden Mann's second Jets season suffered from a split personality, the split courtesy of a knee injury sustained on his first punt of the season in the Carolina opener. He missed seven games, then returned for the last nine. His results: He improved his gross (from 43.9 to 45.7) and net (from 37.2 to 40.6) averages over his rookie season. His hangtime was about the same as his first year, around 4.40 seconds/punt.
But two things he did remarkably well involved touchbacks. As a punter, he had only one TB all season. Even with his reduced number of 41 punts, his 2.4% TB rate was the best by the main punter in franchise history.
And similar to 2020, Mann took over the kickoff duties when Piñeiro came aboard. And he did something equally amazing as setting a franchise record. He nearly topped the NFL mark for best touchback rate.
Mann from Games 13-17 gained TBs on 20 of his 22 kickoffs. That's a 90.9% rate, which is the third-best by any kickoff specialist with at least 20 kickoffs since KOs were moved up to the 35-yard line in 2011. The only better boomer in the NFL in that span is Joey Slye, who averaged TB rates of 95.7% and 91.0% in 2019-20 respectively for Carolina.