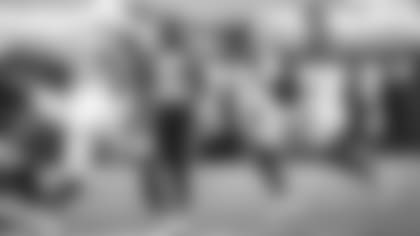 Kicking games often get lost inside difficult starts, but the Jets' kickers have been doing good things that could bode well in getting the team jumpstarted.
Sam Ficken, similar to his marked improvement as a Penn State kicker, had an up-and-down first year as a Jet in 2019 but with several highlights, chief among them his 44-yard game-winning field goal against Miami at MetLife Stadium in Game 14, the longest walk-off kick in franchise history.
Ficken's kickin' has been flawless in 2020: 9-for-9 on field goals and 6-for-6 on extra points. His only miss, from 46 yards out against Denver, was wiped off the books by a Broncos penalty.
He's one of only five NFL kickers this season to have no placement misses (another perfect K is Seattle's Jason Myers, the former Jet in 2018).
"He's had an outstanding year thus far and hopefully he continues, which I think he will," special teams coordinator Brant Boyer said recently. "He prepares like a pro, comes to work every day, comes in early, stays late. He does a nice job of preparing, taking care of his body. I think the world of him. He's got plenty of leg and he's consistent."
While Ficken has a way to go to challenge for the best start without a placement miss in franchise history, he remains in the conversation. Here are the Jets' five longest placekicking streaks from the start of a season without a miss (keeping in mind that all below were in the era of 20-yard extra points, not the current 33-yard XPs):
Table inside Article

| Jets Kicker | Year | FGs | XPs | All PKs |
| --- | --- | --- | --- | --- |
| Nick Folk | 2013 | 23/23 | 14/14 | 37/37 |
| Pat Leahy | 1986 | 10/10 | 24/24 | 34/34 |
| Nick Folk | 2011 | 11/11 | 20/20 | 31/31 |
| Nick Folk | 2012 | 11/11 | 18/18 | 29/29 |
| Pat Leahy | 1987 | 9/9 | 15/15 | 24/24 |
Mann Oh Mann
Braden Mann has taken a little longer road. He came to the Jets as the two-time Ray Guy Award winner out of Texas A&M but started slow in his first four games with a 45.1-yard gross average that was 24th among NFL punters and a 35.4-yard net (thanks in large part to a 41-yard return by Denver's Dontae Spencer on which Mann made the TD-saving form tackle) that was 32nd in the league.
Perhaps Mann turned the corner against Arizona. His six punts averaged a strong 46.5-yard gross and a 45.2 net that is the Jets' 14th-best game net since 1991. His four inside-the-20s are a top-five figure for a Jets punter over the last five seasons.
And Mann's final punt was a keeper. His unofficial hangtime was 5.17 seconds, the best we have by a Jets punter since Lachlan Edwards' 5.18 in his first pro game in the 2016 opener vs. Cincinnati. It was also Mann's first punt that was muffed by the returners, his longest punt at 59 yards (which includes the 9 yards after the muff) and his first inside-the-10 punt.
Boyer is bullish on Mann: "There's a lot of upside to this kid and I think you're scratching the surface of what he's going to become here in the next year or so."
Yet one kick and one game are not nearly enough to hang a pro rookie season on. Let's see how Mann does with the ball compression in the Miami warmth on Sunday. Regardless, Boyer is bullish on his punter: "There's a lot of upside to this kid and I think you're scratching the surface of what he's going to become here in the next year or so."
Getting a Grip
One thing the Jets have done well despite the 0-5 start is not fumbling. Their turnover margin is at a counterintuitive plus-2 for the season, and a major component of that plus difference is that they haven't fumbled, let alone lost a fumble, in the last four games.
The last time the Jets didn't fumble in four straight games was in Games 9-12 in 2018. All four were losses. A better model: The last time they didn't fumble in five straight was in 2009, in Game 15 through the AFC Championship Game, a span that included four wins. It's time for one of those fumble-less wins against their division rivals Sunday.