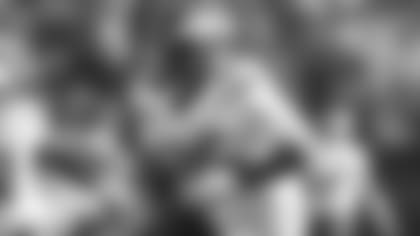 No question, the Jets defense had some hiccups this season, most recently at Seattle. Also no question, the Jets D is headed in the right direction.
"I think we did get better, each and every week," DL Quinnen Williams said as the Green & White prepared to take on the Aqua & Coral in Miami on Sunday. "We have some games where we've got mistakes to clean up. But I always tell them, man, we've just got to make sure we don't make the same mistakes this week as we did last week, and I feel we've been doing that week in, week out as a defense."
All three levels of the defense have had their shining moments, and each of the levels is led by a Pro Bowl player — the most Jets defensive players voted to the NFL's all-star team since the 1985 team was repped by Joe Klecko, Mark Gastineau and Lance Mehl.
As the Jets prepare to put the final touches on their 2022 campaign, here is one more look at some of the milestones the three defensive Pro Bowlers have matched or passed, pointing the way for the entire unit in years to come.
Williams — With the Rams' Aaron Donald shut down for the season with an ankle injury, "Q" is definitely in the conversation for the top NFL interior D-lineman of '22, along with the Chiefs' Chris Jones and the Giants' Dexter Lawrence. Williams' 12 sacks trail only Jones' 13 for most by an interior DL and his 28 QB hits are tied with Lawrence for the most by an interior lineman. Additionally, Williams has at least one QB hit in 14 straight games, tied for the league's longest current streak.
Franchise-wise, with Joe Klecko in line to finally be inducted into the Pro Football Hall of Fame, Williams is staking his claim as one of the Jets' best all-time linemen, interior or edge. He'll have at least as many sacks as Muhammad Wilkerson's 12 in 2015, the most by any Jets defender since Shaun Ellis' 12.5 in 2003.
And Quinnen's 28 hits equal Wilkerson's 28 in '15 for the most by a Jet since 2001, while his 47 QB pressures, as measured by Next Gen Stats, equal Carl Lawson's 47 QBPs, also this season, for the most by a Jet since 2016.
C.J. Mosley — The MLB and defensive captain probably won't match last season's career-high 168 tackles — he'll need a career-high-tying 17 tackles at Miami to do that. But Mosley is in select NFL company nonetheless with his 151 tackles. He is one of eight different NFL players to register 150-plus tackles in consecutive seasons since 2000.
Mosley is joined by three other players this season in this club, two of whom the Jets ran into the previous two games: Seattle's Jordyn Brooks and Jacksonville's Foye Oluokun. They just missed Roquan Smith twice. He was with Chicago when they opened against Baltimore and had been traded to the Ravens when they played the Bears.
Mosley and the other three of this year's double-150 defenders will have the chance next season to earn a promotion. Luke Kuechly and Donnie Edwards are the only players since '00 to reach 150 in three straight seasons.
Sauce Gardner — The rookie left corner would like more than two interceptions, which is what he has so far this season, but he's been dominant at keeping the ball out of the hands of some of the NFL's top wideouts and even tight ends, as we've been following all season.
Many of Sauce's distinctions are in the passes-defensed category. With a career-high four PDs at Seattle, he's got 20 for the season, five more than any other player.
Gardner's already got the Jets rookie record (since 1994). With, let's say, two more PDs vs. the Dolphins, he will pass Darrelle Revis' 2011 season of 21 PDs. Only Revis' league-record (since '94) 31 PDs in '09 would be more in team history. Revis, as a modern-era finalist, could, like Seniors finalist Klecko, also become a Pro Football HOF inductee in a month.
And with only one more breakup, Sauce would join a distinguished NFL rookie group. Only four players (again since '94, when PDs began to be rigorously tracked) have had a "blackjack" of at least 21 PDs in a season:
Table inside Article

| NFL Rookie | Team | Season | PDs |
| --- | --- | --- | --- |
| Marcus Peters | KC | 2015 | 26 |
| Antonio Langham | CLE | 1994 | 25 |
| Charles Woodson | OAK | 1998 | 22 |
| Ronald Darby | BUF | 2015 | 21 |