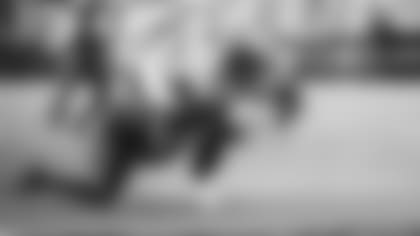 A major strength of the "first half" of the Jets' season (actually their first 9/17ths) can be found in the second halves of their games.
They lead the NFL in fourth-quarter point margin. They're outscoring opponents 37-6 in the final two minutes of second halves. They hold a fourth-quarter total-yards advantage of 378 yards for a plus-42.0 yards/game average.
And mixed in with all of these strong-finishing metrics is their triple-D comeback ability.
That's DDD as in double-digit deficits ... overcome.
When Buffalo opened its 14-3 lead over the Jets in the second quarter Sunday, how many at MetLife thought, well, let's pack up, file out early and move on to the bye week? It would've been a natural reaction, considering that in the Jets' six-decades rivalry with the Bills, when they'd fallen behind by 10 or more points, their record in those games was 5-45, a 10% win rate.
But this year is different. Among all the reasons the Jets' 20-17 win over the Bills was stunning and satisfying, this was the Green & White's third victory after falling behind by 10 or more points, coming closely behind their road comeback triumphs at Cleveland and Pittsburgh.
They've overcome three double-digit deficits only twice before in franchise history, in 2000 (Monday Night Miracle season) and 2016 (capped by Bilal Powell's end zone turf angel in OT at San Fran, a year before Robert Saleh joined the 49ers and five years before he became Jets head coach).
The Jets' next hurDDDle this season could be significant if it arrives and they clear it. In the previous 10 NFL seasons, only eight teams have overcome four double-digit deficits for victories in the regular season. All made the playoffs except one:
Table inside Article

| Season | Team | DDDO | Record, Finish | POs? |
| --- | --- | --- | --- | --- |
| 2020 | NO | 4 | 12-4, 1st, NFCS | Yes |
| 2020 | PIT | 4 | 12-4, 1st, AFCN | Yes |
| 2020 | TB | 4 | 11-5, 2nd, NFCS | Yes |
| 2018 | LAC | 4 | 12-4, 2nd, AFCW | Yes |
| 2014 | DET | 4 | 11-5, 2nd, NFCN | Yes |
| 2013 | DEN | 4 | 13-3, 1st, AFCW | Yes |
| 2013 | NE | 4 | 12-4, 1st, AFCE | Yes |
| 2012 | PIT | 4 | 8-8, 3rd, AFCN | No |
This chart is the long way of saying most teams that display comeback ability this often in a season have what it takes to qualify for the postseason. But we have to split with Joe Namath and say there is no guarantee that the playoffs are yet beckoning for the Green & White.
Saleh warned his team before the bye began about "players that went into a bye week and absolutely destroyed their entire season because they went to a beach and drank beer and ate nachos for an entire week and came back 10 pounds heavier and destroyed their entire back half of the season."
That sounds ugly, but the leaders on the Jets seem to have a handle on the second-half situation, which should bode well if and when they fall behind by 10-plus points again.
"It can go south real quick if you have the mindset of 'I'm on top of the world, I'm this, I'm that,' " DL Quinnen Williams said about the defense, with words that can apply to the entire team. "Nobody in our room, nobody on this staff has that mindset.
"I feel we're on the right path, but we're not just there yet."