One key to battling the Patriots on Sunday, as we mentioned in Friday's 7 Points, was to possess the football for extended periods, and two who can help Josh McCown and the offense do that are wideouts Jermaine Kearse and Jeremy Kerley.
Both are averaging less than 11 yards a catch, yet both have shown great hands and the ability to move the chains. Kearse has caught 22 of the 27 passes targeted for him with a team-leading 10 receiving first downs and five third-down conversions, tied for the team lead with ... Kerley who is 17-of-17 with nine first downs.
Yes, JK is perfect in 17 balls thrown his way. How unusual is that in recent Jets history? Quite. Going back two decades, to 1997, it's tied for the longest stretch of consecutive targets caught by any receiver.
■ Among wideouts, only Jerricho Cotchery's 15-for-15 during a three-game span early in 2008 is in the ballpark.
■ As for tight ends, Jace Amaro had 17 straight receptions on targeted passes during the best stretch of his short Jets stay, which included part of his 10-catch game vs. Denver in 2014.
■ Good-hands running backs, dealing with mostly shorter throws, can build some long streaks. Curtis Martin is the last Jets receiver with 18 straight catches on targets, which he assembled over eight games in 2001. Thomas Jones caught 16 straight targets during a 10-game span in '07 and Jerald Sowell 15 straight in '03.
The streak is remarkable for Kerley, who returned to the Jets late this summer and like Kearse has had to pick up OC John Morton's offense on the fly.
But Jeremy has always had a knack for vacuuming up everything close to his hands and making first downs. One of the highlights in his first Jets incarnation was the 2013 win over New England at MetLife, when he caught eight of 10 passes from Geno Smith for 97 yards, a touchdown, seven first downs and six third-down conversions.
Kerley is the last Jet to get six third-down conversions in a game and the only Jets WR to do it since 1963. And if he has some of that magic still in the tank, it will come in handy in his next home battle with the Patriots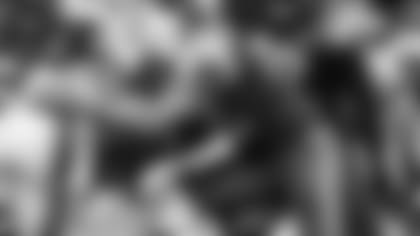 Special AdditionIt was going to take a special challenger to unseat Tanner Purdum from his long-snapper's perch. And as ST coordinator Brant Boyer said about Thomas Hennessy this week, "We thought he could be a long-term guy, and in early start it looks like he could be that guy."
Hennessy's snaps "have been really solid, his velocity has been really good, his blocking has been really good," Boyer detailed. "But last week alone in coverage, he had two tackles and a forced fumble as a long-snapper and that is damn good. I don't know if I've seen very many snappers in my whole career, as a coach or a player, that have covered like that."
Lots of Jets have had two-plus solo tackles in kick coverage in a game, but the long-snapper? The last time that happened was in 2003, when James Dearth tackled not-yet-a-Jet Justin McCareins twice on punt returns in one of the lone bright spots that season, the Monday night win over the Titans.
The forced fumble was made official by a scoring change after the Browns game. Rontez Miles originally got the force on Jabrill Peppers at the end of a second-quarter punt return, but upon further review, while Miles hit Peppers first, Hennessy was the one who caused the fumble out of bounds.
Before Hennessy, no Jets long-snapper back through 1993 forced a fumble.