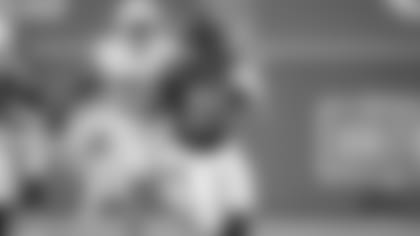 Two long-yardage scrimmage plays by the Jets at Miami are the subject of this week's Inside the Numbers. One was Ty Johnson's late-third-quarter 34-yard run. It was a thing of beauty as George Fant at LT kicked out Dolphins LB Sam Eguavoen, LG Alex Lewis locked up DT Zach Sieler, and LB Elandon Roberts shot the A-gap instead of the B.
Suddenly, Dolphins were grasping at air and Johnson was off to the races, turning on his sub-4.4-second (some say even sub-4.3) speed down the sideline. He got one more key block from RB La'Mical Perine on CB Byron Jones before being pushed out of bounds at the Miami 33.
We mentioned at the time that was the longest run by a Jets back in the last two seasons. One other metric worth mentioning about the play: Johnson's 32 yards before first contact at the 35 was the Jets' most YBFC on a run since Game 5 in 2018 at MetLife Stadium.
That was the day of the Jets' ground game bounty against Denver. Isaiah Crowell set the franchise single-game mark with 219 rushing yards and among his yards-before-first-contact jaunts were his 77-yard touchdown run on which he was never touched by a Bronco and a 36-yarder with 31 yards coming before first contact.
This is a good time to recall the top five yards-before-first-contact runs by the Jets since 2010. Johnson's not on this list yet, but with Mekhi Becton (shoulder) returning soon to LT and the return to health of Jets wideouts to loosen up the box for running plays, maybe Johnson or Perine or dare we say old man Frank Gore might still have a shot this season:
Table inside Article

| Jets Runner | Year, Game | Opp | YBFC | YAFC | Yards |
| --- | --- | --- | --- | --- | --- |
| Isaiah Crowell | 2018 Gm 5 | vs DEN | 77 | 0 | 77-t |
| Bilal Powell | 2017 Gm 4 | vs JAX | 75 | 0 | 75-t |
| Elijah McGuire | 2017 Gm 4 | vs JAX | 63 | 6 | 69-t |
| Chris Ivory | 2015 Gm 16 | @ BUF | 55 | 3 | 58 |
| Brad Smith | 2010 Gm 11 | vs CIN | 53 | 0 | 53 |
Long-Distance Sackers
We mentioned two long-yardage plays above, but the second play went in the opposite direction from Johnson's run. That was Emmanuel Ogbah's 28-yard sack of Joe Flacco in the fourth quarter. Records are sketchy prior to the Eighties but that unofficially was one of the longest sacks yielded by the Jets in franchise history.
Even though defensive sacks weren't official until 1982, sacks and yardage suffered by the sackees were recorded back into the Sixties. The longest pre-Flacco sack determinable was of Titans QB Lee Grosscup in the 1962 season opener at Oakland. Raiders DT Orville Trask did the honors, taking Grosscup down for a 25-yard loss.
Several Jets defenders came close to that figure as well. In 2008, Shaun Ellis got credit for a 23-yard sack of Arizona's Kurt Warner with 11 of the yards coming as the result of Warner's fumble on the Ellis strip. In 1978 at Baltimore, Bob Martin scored a 24-yard sack of Colts QB Bert Jones that also included a fumble.
And in a 1972 home game also against the Colts, the scoring couldn't narrow down the number of Jets tacklers — John Elliott, Mark Lomas and Ed Galigher all were credited with the sack in the play-by-play — but the yardage was exact: 26 yards lost on QB Marty Domres' ill-fated scramble.