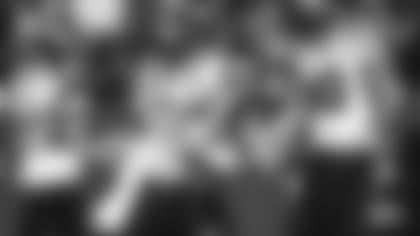 When the Jets play a Bengals game, it's easy to see the progress. When they play a Colts or Patriots game, it's hard to see any progress. Yet progress can still be made. Possibly we saw some more growth for the Jets offense despite the overall gloom of Thursday night in Indy.
Certainly the Jets took advantage of some looser Indy defense after falling behind 42-10 in the third quarter. But as Robert Saleh noted, the Colts were playing their ones "to the final whistle." Meanwhile, the Jets were playing their backup QB again in Mike White and then their backup to the backup in Josh Johnson and, once Josh got his C-legs (C as in Colts) under him, he played a really good game for a grizzled old QB.
"I just think we had some tough situations early," Johnson said of his understandably slow start jumping into the fray for White at the top of the second quarter before he finished strong with career game highs of 27 completions, 317 passing yards and three passing touchdowns.
"I know the first drive I would've liked to do some things different. I felt like I missed some reads on my first drive and I was really upset about that. And then after that I think we had a turnover. We just had to settle down and get in a flow. ... I had to get into a rhythm a little bit, and once we got into a rhythm, we were able to do some positive things."
So let's put all of the explanations aside and deal just with those positive things as revealed by the numbers, which tell us this: The Jets have just completed two of the most productive back-to-back offensive yardage games of their existence.
The Green & White's 997 yards combined from beating Cincinnati and losing to Indianapolis are the third-highest total in consecutive games in franchise history:
Table inside Article

| Year | Game, Opp | Tot Yds | Game, Opp | Tot Yds | Comb Yds |
| --- | --- | --- | --- | --- | --- |
| 1985 | Gm 10 @ MIA | 491 | Gm 11 vs TB | 581 | 1072 |
| 1981 | Gm 4 vs HOU | 478 | Gm 5 @ MIA | 546 | 1024 |
| 2021 | Gm 7 vs CIN | 511 | Gm 8 @ IND | 486 | 997 |
And their 812 net passing yards (including sack yardage) combined vs. the Bengals and Colts are the second-most passing yards in back-to-back games:
Table inside Article

| Year | Game, Opp | Pass Yds | Game, Opp | Pass Yds | Comb Yds |
| --- | --- | --- | --- | --- | --- |
| 1967 | Gm 2 @ DEN | 399 | Gm 3 vs MIA | 427 | 826 |
| 2021 | Gm 7 vs CIN | 414 | Gm 8 @ IND | 398 | 812 |
| 1972 | Gm 2 @ BAL | 490 | Gm 3 @ HOU | 301 | 791 |
Two more recent measures of the offense's improving effectiveness: In the last two weeks, the Jets' NFL ranking in net passing yards/game has risen from 29th to 19th to, after the opening game of Week 9, 14th. That ranking could well change through the rest of the weekend's games, but at the moment that's the Jets' highest ranking this late or later in a season since 2015, when they finished the season 13th. Plus their 25 passing first downs vs. Indy ties the franchise single-game mark set in 1980 vs. San Francisco.
And all this without injured No. 1 WR Corey Davis, who could return to action for Buffalo a week from Sunday.
Rookie WR Elijah Moore, whose emergence the past two games may have something to do with these high-tide marks, perhaps said it best: "That's how it's supposed to be. That's the way the offense is supposed to be run. We're supposed to put up a lot of numbers, a lot of yards, and get a lot of accolades for a lot of different players."
Now is that how it will be in coming weeks? Or will the Jets suffer the same rollercoaster fate as the defense has lately and as numerous young NFL teams have over the years? Their next opportunity to show the fans and themselves that this two-game uptick is real progress comes in eight days when the very tough Bills, at the moment sporting the No. 1 overall, passing and scoring defense, come calling at MetLife Stadium.