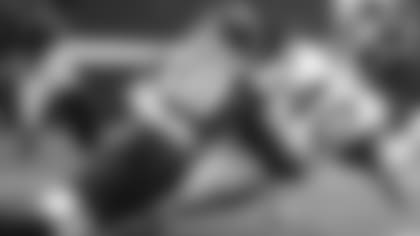 The Jets' defensive accomplishments through the first 15/16ths of this season have been outstanding, considering all the "Next Men Up" who've jumped into and out of the lineup.
And if there is a Next Man Up Award this year (there isn't, as far as we know), it could easily go to one of the men in the middle of that defense, LB James Burgess.
"I love Burge and how hard he plays," defensive coordinator Gregg Williams has said. "How many times has he been cut? Those are fun guys to coach. I love the fact that we've had a chance to win with those kinds of guys."
What is it that Burgess has done since he was signed from the practice squad in late October? The most eye-catching thing is the amount of time he spends making plays at and behind the line of scrimmage. By an unofficial count, he's got 14 tackles for loss/no gain on rushes and receptions. That's 1.5 tackles ahead of undrafted free agent rookie DL Kyle Phillips for the team lead.
In fact, Burgess' number ranks up there among the top season totals by Jets defenders this millennium. Here are the 10 times Jets players have reached 14-plus regular-season TFLNG since 2000 (*through 15 games):
Table inside Article

| Player | Yr | Tkls | Player | Yr | Tkls |
| --- | --- | --- | --- | --- | --- |
| DL Sheldon Richardson | 2016 | 20 | DL Muhammad Wilkerson | 2014 | 14.5 |
| LB Bart Scott | 2010 | 18.5 | LB Marvin Jones | 2000 | 14 |
| LB David Harris | 2013 | 17.5 | LB Demario Davis | 2015 | 14 |
| DL Damon Harrison | 2013 | 17.5 | DL Damon Harrison | 2015 | 14 |
| LB Eric Barton | 2004 | 16 | LB James Burgess | 2019 | 14* |
Among Burgess' seven stops with six teams (he began with Adam Gase's first Miami team in 2016 as a UDFA and returned to the Dolphins late last year), Williams coached him with the Browns in 2017-18.
"There's a picture that I have in my office," the DC said. "When we played Jacksonville a couple years ago over there, he had 19 tackles, two sacks, six tackles for loss, two hurries, and his helmet looked like back when I played — it was crushed and broken. This is a young man that plays and gives you everything he can and then, he's smart enough to fit in and we adapt when he's in the game."
One final point on Burgess' Jets tenure: He's always in the game on defense. His first game this year was at Jacksonville, when he logged 71 of 74 defensive snaps. Since then, the Jets' D has played 527 plays and so has Burgess. In the last eight games he's played in more scrimmage plays than anyone else on the roster.
"Make no bones about it, I love that kid," Williams says. Heading into the final game of the season at Buffalo on Sunday, it's easy to see why.