Rookie LB Darron Lee has been racking up some nice numbers through his first five games as a pro. Lee, not David Harris for a change, leads the Jets in tackles — 32 from the coaches' video breakdown, 28 from pressbox stats. He's notched a half-sack, three tackles for loss, three more for no gain. And he got his first pro pass defense last Sunday on a third-quarter Ben Roethlisberger throw from the Jets 29.
The Steelers statistical crew ruled that the pass was intended for TE Jesse James, crossing right to left, whom Lee was trailing. And since James didn't make a play on the ball solidly behind him and thus Lee knocked down a pass that was never in danger of being caught, he got no PD.
Stat crews make real-time calls on all official stats as well as all unofficial ones, such as tackles, targets, forced fumbles and pass defenses. Because unofficial pressbox stats are, well, unofficial, they're rarely overturned, but the Elias Sports Bureau compiles and lists them anyway for all NFL players. And there Lee sat all week with zero PDs for the season.
Problem is, Big Ben's ball wasn't intended for James. He was rifling it behind those two to WR Antonio Brown 10 yards further downfield. Brown would've been in position to try for a low catch but Lee prevented that. He should've gotten the PD.
Lee agreed with me when I told him about the scoring on the play.
"Really? They didn't give me that?" he said. "I knew he was throwing it behind and I just got a hand on it. It was a split-second decision to put my hand up because I could've easily not seen it and it would've been a completion.
"If you want to be that technical, I guess it doesn't matter," he said, adding after a pause, "I guess I would like the stat."
Because it's unofficial, there's no conflict with his coaches giving him a PD on the play, which they did. And the Jets are happy with how he's settling in after more than 230 defensive snaps.
"As each week goes on, I just get more and more comfortable," Lee said. "Some of the guys around here are starting to see it, especially with the communication aspect. Now that you're seeing the same stuff over and over and you're seeing the stuff you go over hold true, it makes it easier. I'm not saying it's so easy, but I'm a lot further along from when I first got here."
Beast to CoverAt 6'4" and 230, Brandon Marshall continues to be one hard wideout to cover, as not only his receiving stats but his penalties drawn on opponents indicate.
With a pass interference and a hold, both committed by Steelers CB Ross Cockrell (and both declined because of a Jets reception on the play), Marshall now has forced six penalties this season — four PIs, a hold and a facemask. That's similar to the pace he set last year of eight penalties drawn on opponents after five games and 15 penalties drawn for the season.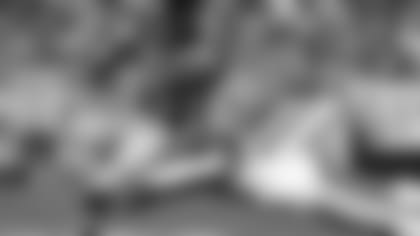 Unfazed by the FakeRontez Miles gave props to ST coordinator Brant Boyer for the call that resulted in his tackle of holder Jordan Berry for a 3-yard loss in the snuffing of the Steelers' fake field goal try. The call and the execution were so good that it was one of the few times the Jets have ever stopped a fake kick for minus yardage. Some others:
■ Up-back Eugene Chung, fumble and 1-yard loss on fake punt, tackled by Eric Smith, Jets at Patriots, 2010 AFC Wild Card Game
■ Punter Chris Mohr pass to Pete Metzelaars, 9-yard loss, tackled by Mo Lewis (opening series of game), Jets at Buffalo, 1991
■ FG kicker Gino Cappelletti, 11-yard sack, tackled by Mark Johnston (a Jet for only 8 games), Jets vs. Boston Patriots, 1964