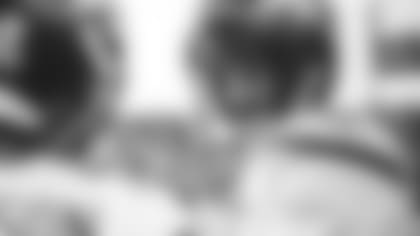 Earlier this week, we at newyorkjets.com submitted our responses to the pre-Carolina query in our weekly question series: Which matchup in the Jets-Panthers joint practices (and by extension their Saturday afternoon preseason game) do we want to see?
Here's one that nobody picked that's flying under the radar: Thomas Morstead vs. Johnny Hekker.
Yeah, the Jets' 15th-year punter against the Panthers' 12th-year punter.
We're not in the regular season yet, and Morstead and Hekker won't be booming them side by side a la American Ninja Warrior. Still, they'll be competing this week as two of the best punters this millennium in terms of net average, fewest punts returned and other instep esoterica.
For instance, here are the NFL leaders with at least 10 seasons of experience since 2000 in two categories. The left chart shows the top five net-average leaders, the right side lists the top five inside-the-20/touchback ratios:
Table inside Article

| Punter | NetAvg | Punter | I20/TB |
| --- | --- | --- | --- |
| Johnny Hekker | 43.0 | Johnny Hekker | 7.65 |
| Thomas Morstead | 41.5 | Brett Kern | 6.83 |
| Sam Martin | 41.2 | Britton Colquitt | 6.24 |
| Bryan Anger | 41.2 | Jeff Feagles | 6.10 |
| Brett Kern | 40.2 | Thomas Morstead | 5.71 |
But the real focus for Jets fans won't be the punters and coverers going up against the Panthers returners and vice versa. It will be Morstead's continued cool, calm and collected approach in returning to the Jets and trying to raise their punt coverage into a difference-making unit in this season filled with expectations in every corner of every meeting room and every practice field.
Morstead came to the Green & White when Braden Mann was injured in the 2021 opener at Carolina, of all places. And while Mann returned after missing seven games and put up fair 45.7 gross and 40.6 net averages, the reality is that Morstead had a better '21 as the Jets' interim punter, averaging 48.2 gross and 43.0 net and suffering no touchbacks.
"I thought Thomas did a great job when he was here," STC Brant Boyer said during OTAs of the team's call to move on from Mann and back to Morstead. "He's such an experienced guy who executes the game plan exactly the way you want it. He's great to be around. He takes a leadership role in the room. And he's just a pleasure to be around and a great guy to have on your team."
Besides helping to prevent a lot of returns by the other teams, Morstead has a two-step approach to the ball that has been virtually unblockable. He has given up just one block back when he was the Saints punter in 2011. And while a 40-yard net is no longer like a .400 batting average among the league's big-legged punters, it's still significant that Morstead this season is looking to extend his 12-year streak of season nets of 40.5 and above.
As for 2023, the stats don't count yet, but Morstead got off to a strong start in the Hall of Fame Game. His five punts averaged 49.2 gross and 47.2 net. If he rang up that net in a regular-season game, it would have been the eighth-best net punting game in franchise history. And his hangtimes were eerily consistent, with all five punts unofficially timing between 4.56 and 4.69 seconds.
This week kicking against Hekker will be one more metric for Morstead to show he's ready to play his understated but valuable role for the Jets in the season ahead.