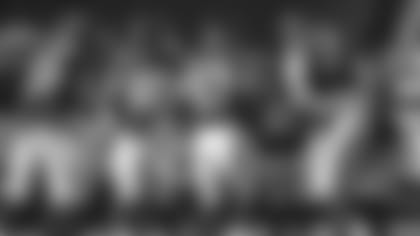 Starting LG Alex Lewis will miss his second straight game with a non-injury designation. Head Coach Adam Gase said that it's an organizational decision and that Lewis' roster spot is not in jeopardy. Lewis has been in team meetings. Last week against the Dolphins, Pat Elflein started at LG and played all 55 snaps after he was claimed off waivers on Nov. 16.
"Wherever you're at, the motto is the same," said Elflein, who is questionable for Sunday's game with a shoulder injury. "You take everything one day at a time, get better each day and always be ready because you're always one play away from being in the game. It started off that I was excited to be here and get to work with the guys and coaches. I'm here having fun, getting better each day and hoping to get a win."
Elflein, a third-round pick in 2017 out of Ohio State by the Vikings, played both guard positions and center for Minnesota. Head Coach Adam Gase said that the Jets viewed him as a center with guard flexibility and was impressed how quickly he picked up the offense.
"We were anticipating him at least going into the game being up, so we were trying to get him ready kind of in a couple spots just in case we had any kind of issues injury wise," Gase said. "But I thought he did a hell of a job of being able to go in there. He fought and he had some really good sets in his pass pro and then he had some really good blocks in the run game as far as he pulled a few times and did a good job of helping the backs pop open."
Elflein added: "I had to do a lot of studying and relying on my teammates. I have some really good teammates here, some really smart players across the board. … Everyone is very smart, so they were able to help me out and keep me on the same page. It was interesting. It was a lot of fun."
Art Rooney Award Nominee
Jets DL Folorunso Fatukasi is the Jets' Art Rooney Sportsmanship Award nominee, given to an NFL player who exemplifies on-field sportsmanship.
"Honestly I believe it's an honor to receive that nomination because sportsmanship is about respect for the game," he said. "I personally have a lot of respect for the game and the men that paved the way for this moment right now. To be able to be a nominee for that award, I'm honored by it."
Fatukasi (6-4, 318) said that he wasn't always a good sport. That changed during his sophomore and junior years at the University of Connecticut under the tutelage of a pair of defensive coaches – Vincent Brown, who played LB for the Patriots (1988-95); and Anthony Poindexter, who played DB in the NFL from 1999-2001.
"One thing I've always admired about this game is the stories of the men that played this game before us and what they went through and how they grinded through this game and how they played it," Fatukasi said. "For me, I had an understanding that there's a respect that's supposed to be had while playing this game and you have to have while playing this game."
Both Teams Hungry for a W
The Jets (0-11) are hungry for their first win of the season and have a chance to put a dent in the Raiders' playoff aspirations. Las Vegas (6-5) is coming off back-to-back losses and is currently the No. 9 seed in the AFC, one game behind the Dolphins (7-4).
"We have to have a starving-to-death mentality to get back in the postseason and the Jets are going to play hard," Head Coach Jon Gruden said. "You watch that game last week against Miami, you watch them play close against the Chargers. Every week they're a handful. They have a young team trying to make their way in this league and it's going to be tough. We have to go on another long trip in another short week. … We have to worry about ourselves. We have to have a collective urgency to play our best football this week no matter who we play."
See the Top Images from Practice Leading Up to Week 13