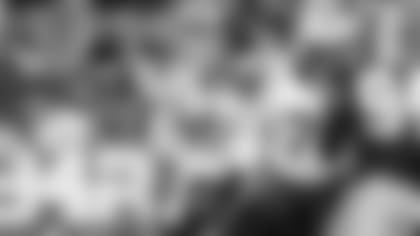 Sam Darnold celebrated another first Thursday night at FedExField. Making his first NFL start against the Redskins, Darnold completed 73% of his passes. But sustained success proved to be elusive as the rookie signal caller experienced some adversity at the midway point of the preseason.
Minus two regulars along the offensive line, Darnold was sacked twice and he was also victimized by an interception in enemy territory. He played the entire first half and the starting unit had difficulty finishing drives with touchdowns.
"Our guys were getting open, I was hitting them," said the always upbeat Darnold. "We drove the ball a couple of times, had some good drives, and just couldn't really finish in the red zone - which is my fault. I pride myself on being able to score touchdowns."
On the game's third offensive play, the 21-year-old USC product was taken down by Daron Payne after the 'Skins NT won his matchup with Jonotthan Harrison. Then in the second stanza, with the Jets in the red zone, Darnold couldn't find anyone open on third down. Outside 'backer Preston Smith took advantage of Brent Qvale on the play as the veteran Jet lineman has been lining up at LT in place of Kelvin Beachum (foot).
After driving the Jets back into scoring territory on their next possession, Darnold faced a fouth-and-1 from the 20. He went play action, zeroed in on his target and threw to a covered Jermaine Kearse as a Redskin had No. 14 in his sights. The result was Darnold's first turnover with S Troy Apke corralling the batted ball and negating an opportunity to get points.
Operating without wideouts Quincy Enunwa and Terrelle Pryor and tight ends Chris Herndon and Neal Sterling, Darnold had his moments. He led a 12-play, 42-yard scoring drive that ended with a Taylor Bertolet field goal, converting on a pair of third downs to Tre McBride. He also had a fine throw to Bilal Powell, sprinting right and delivering a short ball with perfect placement.
Despite reaching the Washington 20 on two occasions, Darnold and the offense could only muster three points. Throwing short and intermediate passes, he was 8-of-11 for 62 yards. He had a strong week overall against the Redskins, impressing on the practice field and receiving praise from Redskins CB Josh Norman and QB Alex Smith along the way.
Following the uneven half of work, Darnold said he liked how he got out of the huddle quicker vs. the Redskins than he did in his extended look last Friday night vs. the Falcons.
"I did a lot better job of getting to the line of scrimmage and having some time to analyze the defense," he said. "It was fun to be able to feel really, really comfortable with every single play call. I felt sometimes when JB [offensive coordinator Jeremy Bates] started to call a play, I knew exactly what play he was going to."
Still, the rookie pointed out a few things he wanted to improve on, such as "understanding the worst-case scenario that when they bring the house, where I can go with the football on every single play. In football terms, where my 'hots' are."
"But again, it's preseason. That's what it's for, that's what training camp is for," he said. "We'll be able to go and watch the tape and then we'll talk about it. It's awesome to be able to watch the tape, correct it, and move on."
Entering training camp, the Jets quarterback competition was not expected to be a quick one and everyone acknowledged Darnold had plenty to learn. Absorbing some bumps Thursday, Darnold has been good and better days are ahead.
"It was huge, huge," he said about just how important this game is to his growth. "Any game experience is huge, because it's kind of well-documented but I only played really like a year and three-quarters of college football and a year and a half of high school football. So every single game I play is huge. I feel like I'm going to continue to grow and get better every single day."