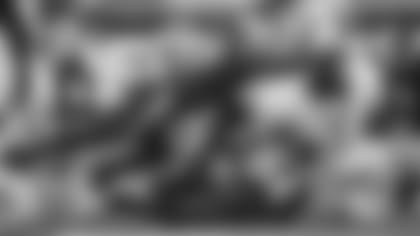 From the outside looking in, the story of the New York Jets' 2020 NFL season has consisted of many struggles and growing pains — but that's not the whole story.
"We all know how hard it is to win in this league, period," DL Folorunso Fatukasi said on Sunday after the Jets' victory over the Browns. "Everyone knows the type of adversities we have faced as a team, so to pull out a second win, it feels great."
The adversity, said Fatukasi, was embraced this season.
"We have put in all of the work and effort and the men in this locker room have faced so much adversity but still kept coming to work and kept grinding," he said. "They haven't made any excuses and have tried to find ways to get better. To come out with a second win regardless of what's happened, it feels good. And to be part of that feels even better. I'm so proud of these guys…It's hard to win in this league and you want to take those wins and cherish them."
Through 15 games, Fatukasi — who has been a pillar in the defense's run-stop game — has recorded 21 tackles, 2 sacks 2 PDs and 1 FF. The 6-4, 318-pound lineman has helped push the defense to No. 5 in the league in rushing yards allowed per play and No. 10 in the league in rushing yards allowed per game. He's recorded multiple career-highs this season and credits his teammates.
"I truly believe this, but if it weren't for the guys around me, I wouldn't be where I'm at now," he said. "Each guy in the locker room, we feed off each other and encourage each other and motivate each other. Even when times are getting really hard, we keep finding ways to push each other and get another win. It's amazing and I feel like we all feed off each other and I never feel like one and alone. We're all together in this one."
Along with sticking together through a challenging season, the players have also committed themselves to changing the team's culture.
"It takes hard work to build a culture," OL Connor McGovern said. "It takes every single person in the building from the owner all the way down to the janitors to change the culture. I think that's what we're working toward here. One person isn't going to define that culture, it takes the whole group to get there and we're building toward that. The culture that you install will be there for years, and that's what we're trying to change. We are on our way to that. Guys are believing and playing with a lot of passion and showing up to work every day when it isn't easy to show up."