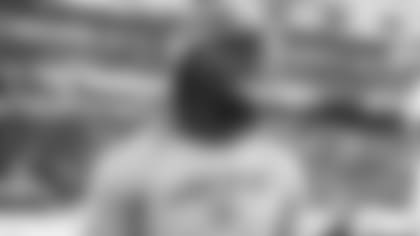 It's still unclear whether linebacker C.J. Mosley will make a return to the field for the Jets' Sunday matchup against the Eagles. Mosley, who has not practiced since he suffered a groin injury in Week 1 against the Bills, is unlikely to practice Wednesday.
"There hasn't been a setback. I think it's just him and Jordan (Jenkins) both have injuries that are tough," said head coach Adam Gase. "They're tough to get back to 100% and with the amount of movement that C.J. has to do where he has to open up and burst and change direction, plant, drive, all those type of things, it has to react the way that he needs it to react for him to play at the level that he needs to play at."
The sixth-year linebacker may not be physically able to participate in practice yet, but he's still taking his role as a team captain and leader on the defense seriously.
"You just have to stay with the program and pay attention like I'm playing every week, and that's what I've been doing out there as far as taking notes and watching film," Mosley said. "I'm watching our practices while I get treatment, so every day I try my best to keep the guys going too, because I'm still a leader whether I'm on or off the field. I just need to make sure that I take care of myself and still prepare like I'm getting ready to play."
Since exiting Week 1, Mosley has missed the past two contests for the Green and White. But coming out of the Week 4 bye, he had a strong message to the defense as they look ahead to possibly another game without the star ILB.
"As far as the defense, I'm just making sure the guys stay focused. My biggest thing was hitting the reset button," Mosley said. "Come in and get ready to go on a run, whether it's been the offense or defense, that's been our talk before we left. As a defense we just have to make sure that we control what we can control. My biggest thing is not giving up big plays, that's been the thing that's got to change with offenses around the league. We're doing our best to keep it under field goals or less."
Sitting on the sidelines hasn't been easy for the 6'2", 250-pound Pro Bowler, and his presence has been missed. In his debut with the Jets, Mosley recorded two pass defenses, a pick-six and a fumble recovery, giving fans and his teammates a glimpse of the kind of play he'll be bringing to the field this season.
"My job right now is try to get back to myself as quick as possible, but also when I see stuff as a player on the sidelines, I'm making adjustments with the guys," Mosley said. "During the game, or when we're watching film or we're going through motions and stuff, I'm making sure we're all on the same page as far as what we see as a linebacker group and as a defense."