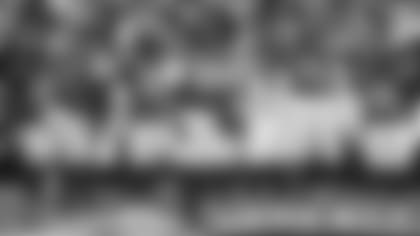 Throughout the offseason, NewYorkJets.com reporters Eric Allen, Ethan Greenberg, Randy Lange, Caroline Hendershot and John Pullano will give their responses to a series of questions regarding this year's Jets.
Today's question: How will the Jets defense fare against another top QB in Justin Herbert?
EA:  I like this Jets defense against any quarterback, anywhere. Herbert is elite, but the Jets have already faced three elite QBs this season at home in Josh Allen, Patrick Mahomes and Jalen Hurts. The Jets went 2-1 and as the defense produced 8 INTs, 8 sacks, 22 QB hits and 20 PDs. Those QBs weren'tshut down, but they were limited to 17.7 points per game and they averaged just a 61.7 QB rating while churning out 124 yards on the ground (5.9 yds/carry).  Herbert, who ranks sixth in the NFL with a career-high 101.1 passer rating and doesn't run much, has averaged 284 yards in 14 prime-time starts with 29 pass TDs and 9 INTs. He was magnificent last week against the Bears, but the previous three games Herbert, who is playing with a finger injury on his non-throwing hand, posted sneaky pedestrian numbers against the Raiders, the Cowboys and the Chiefs (57%, 4 TDs, 4 INTs). This Jets defense might not be the '85 Bears, but they're not the 2023 Bears either. The unit has gone 25 straight games without allowing 270-plus+yards and they will keep 8 fresh up front for 60 minutes of fury. Plus, Herbert won't have a break in the back seven against a unit that arguably boasts the top LB tandem in football (C.J. Mosley and Quincy Williams) andthe best three CBs (Sauce Gardner, D.J. Reed and Michael Carter II).
EG: It's hard to say the Jets won't do well considering how they've played at home against Josh Allen, Patrick Mahomes and Jalen Hurts, who combined for 3 passing touchdowns and 8 interceptions. The Jets haven't allowed opposing quarterbacks more than 14 points, either. Chargers RB Austin Ekeler, who has played in four games this season, is the "engine" of LA's offense, according to Jets DC Jeff Ulbrich. The Bolts are 2-0 this season when he eclipsed 100 scrimmage yards, including last week's 30-10 win over the Bears -- Ekeler had 29 rushing yards and 94 receiving. The Green & White are well equipped to handle Ekeler through the air, who's led the NFL in total touchdowns each of the last two seasons. LB Quincy Williams, the AFC Defensive Player of the Month for October, leads the league with a 90.6 coverage grade, according to Pro Football Focus (min. 50% snaps). C.J. Mosley ranks second at 90.2. Justin Herbert has thrown for over 300 yards twice this season – in Weeks 2 and 3 – but has averaged 237.8 yards per game since.
RL: Prediction: If the Jets D can weather the first-half storm that is Justin Herbert, they'll do really well as usual in the final 30 minutes. Consider that of the 7 QBs the Jets have faced, a list that includes top-rated dudes Josh Allen, Dak Prescott, Patrick Mahomes, Russell Wilson and Jalen Hurts, their combined first-half stats are 67% accuracy, 7 touchdown passes to 4 interceptions and a 90.1 passer rating. Those same 7 in second halves/OTs: 61%, 1 TD pass to 4 INTs and a 62.7 rating. Then there's Herbert, who has looked unstoppable in his 7 first halves this season, completing 73% of his throws, 10 for TDs and none for INTs, and 5 sacks, to the tune of a 117.0 rating, second-best behind only Miami's Tua Tagovailoa. Jets-Chargers is over at halftime, right? Eh, maybe not. Herbert in second halves is down to 63% accuracy, 3 TDs and all 4 of his INTs, 10 sacks and an 81.5 rating. Sounds like if the Green & White defense can ride the wild surf from LA in the first half, it could be on the beach with Snoop Dogg by the end of the night.
CH:I think the Jets will bring their typical style of defense for prime-time against Justin Herbert. Against similar caliber quarterbacks (Josh Allen, Patrick Mahomes, and Jalen Hurts) the Jets defense has wreaked havoc by allowing only 3 pass touchdowns, getting 8 interceptions, and creating ana average 61.7 passer rating. The Jets defense not only limited the QB each game, but it ranks fourth in the NFL in yards per play allowed, they ranks eighth in points per game, fifth in pass yards per game, and fourth in red-zone touchdown percentage. While Herbert's best game this season came last week against the Chicago Bears with 3 passing touchdowns, 0 interceptions and a 122.7 passer rating, in Weeks 4-7 he struggled with 57.1 completion percentage, 217.7 pass yards per game, 4 passing TDs, 4 INTs and a 75.9 passer rating. While I think this will be a close game, I think the Jets defense will be able to rise to the challenge, especially on "Monday Night Football" at MetLife Stadium.
JP:Before the Jets' Week 7 bye, the Green & White's defense held theEagles andQB Jalen Hurts – the 2023 MVP runner up – to 14 points and 1 rushing touchdown while playingwithout itsstarting CBs in D.J. Reed and All-Pro Sauce Gardner. Heading into another bout this Monday with one of the NFL's best QBs – the Chargers' Justin Herbert – Reed and Gardner will be back. During his weekly press conference on Thursday, Jets DC Jeff Ulbrich paused mid-sentence and poseda question: "Have we faced a non-athletic quarterback this season?" Outside of Patriots QB Mac Jones, the answer is no. As a result, the Jets defense has ample experience against some of the league's elite dual-threat QBs and progressively improved against them. Since surrendering 23 points and 51 rushing yards to Chiefs QB Patrick Mahomes in Week 4, the Jets sacked Hurts, Russell Wilson and Tyrod Taylor a total of 8 times and allowed 15 points per game. The Jets appear to have found the blueprint for dealing with some of the game's best QBs. I expect them to continue those dominant performances against Herbert.