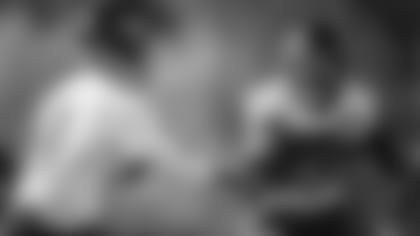 After being shut out by the Patriots Monday night and totaling 154 yards, how can the Jets offensive unit right the ship against the Jaguars?
Running back Ty Montgomery believes it starts with eliminating penalties. The offense was flagged five times against the Pats, their highest total since playing at New England in Week 3. For the season, the group has been called for 30 infractions, eight of which have been either declined or offset.
"That's going to help us get into a rhythm and stay in a rhythm. It doesn't really do us any good to have a couple of good completions, let Sam (Darnold) get comfortable and then have two or three false starts and a holding penalty," Montgomery said. "I really think that's the biggest thing I think that's what's hurt us the most, those self-inflicted discipline penalties that either puts us second- and third-and-long situations or we end up turning the ball over because we're trying to do too much, just trying to make something great happen."
While penalties have been an issue, slot wideout Jamison Crowder says the Green & White also need to start fast. Against the Cowboys — the team's lone victory — the offense scored a touchdown on its second possession but has totaled just 13 first-quarter points this season. In the Jaguars' four losses, they've surrendered 37 points in the first frame compared to a total of seven in their three wins.
"We have to just make plays early, make the catches for Sam," Crowder said. "I think that'll be the best way to get into that rhythm, to just get that confidence back up. We have to come out and start hot early."
In addition to limiting penalties and coming out of the gate hot, the offense needs to improve its communication.
"We have to be experts on the details, take it one detail at a time and focus on your job as an individual," LG Alex Lewis said. "Then as a team, all 11 guys on offense are focusing on just their job, then that's when production comes. Now when you have 10 guys doing their job and one guy messing up here or one guy messing up there, it's hard to win games when you're playing 10 against 11. All 11 guys have to be on the same page, focusing on the details of fundamentals and get to work."
Perhaps a remedy for all of the above, especially on the road, is establishing the run. Despite a slow start for RB Le'Veon Bell in 2019, he's still one of the league's top running backs and is coming off a season-high 70 yards on 15 carries against the Patriots. The Jaguars have a talented front that features Calais Campbell, whom Bell declared one of the top-three underrated players in the NFL, but the Jags rank No. 21 in rush defense, allowing an average of 117.1 yards per game.
"If you're strong running the ball, getting four and a half, five and a half yards per carry, it's going to force the defense to make corrections to play the run first," Lewis said. "Then you can open it up with play action, so running the ball is huge when you're talking about balancing up your offense. It just opens everything up."