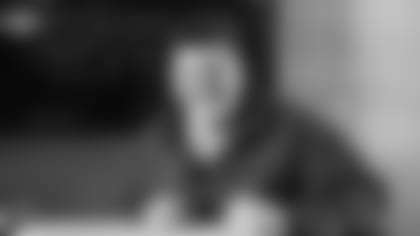 The Jets' new OL Dan Feeney is trading powder blue and gold for green and white, palm trees for skyscrapers, and the West Coast for the East Coast. Despite the changes, he already feels at home (and yes, the mullet made the trip).
"When we were talking on the phone, it seemed like everything was going to click here with the new coaching staff and the guys they got here," Feeney said. "It seemed like the right decision."
He added of General Manager Joe Douglas and Head Coach Robert Saleh: "They're awesome, man. Coach Saleh, you're almost expecting to see this super passionate, aggressive guy, but he's super chill hanging out when you're talking to him. But you can tell the competition aspect is going to come up and he's going to be that fiery guy that you see on Sunday.
"I just knew he was kind of a player's coach and always for the guys. Having that culture that they had in San Fran, all the guys loved playing for him it seemed like. They loved how he was developing the team and engaged with players. It seemed like a great atmosphere and great working environment."
Feeney, who was drafted by the Chargers in the third round in 2017 out of Indiana, started all 16 games in each of the past three seasons and lined up at both guard positions before starting at center in 2020. He hasn't received any indication where he'll line up for the Jets, but he's a versatile piece for any offensive line after Pat Elflein (Panthers) and Josh Andrews (Falcons) departed in free agency. They combined to start 10 games for the Jets last season and both were versatile.
The Jets' outside-zone scheme under OC Mike LaFleur is similar to what Feeney said he excelled at in college. He'll just "dust off some old books" as he put it. Offering a self-scout, Feeney said he takes after his father, who is a blue-collar guy.
"A little bit of grit, a little bit of toughness, a little bit of want-to," Feeney said of what he adds to the O-line. "We're going to demolish some people this year, man. We need to do and we're going to do it the right way. We're going to have some competition and some fun doing it."
Feeney's biggest adjustment comes off the field. Born and raised in Orland Park, IL, about 26 miles southwest of Chicago, he's not accustomed to New York thin crust pizza.
"It's OK," he said. "I like it a little deeper, but I think I can learn to like it."