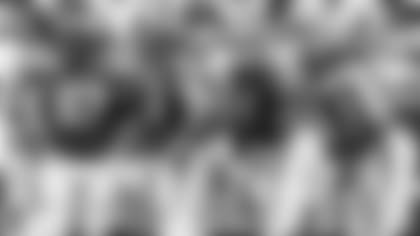 Even though the Jets starting offensive line has only played one game together, they know where they want to go. But the question remains entering Week 2: How quickly can they get there?
"It's happening fast already," left guard Kelechi Osemele said. "We had a really good practice Thursday. Everybody knew where we were going, everybody was picked up, so we're learning fast. We're learning off the previous game.
"I feel like our coaches are starting to get comfortable too on how they want to block things. There are less changes happening now. Now, we're starting to get a feel how (Adam) Gase wants to block it, how our offensive line coach (Frank Pollack) wants to block it. They're doing a good job of communicating. We're kind of sure now."
Left tackle Kelvin Beachum, Osemele, C Ryan Kalil, RG Brian Winters and RT Brandon Shell combine for 40 years of NFL experience, but in their first go-round together in Week 1, QB Sam Darnold was sacked four times and knocked down another five.
"At times, we were a little bit out of control, trying to do too much. Then other times, playing a little slower than we probably needed to play," said Kalil, who acknowledged he could've taken more command with his calls at the line. "There were a lot of good things we did on tape, but nothing that we put together for complete drives except for the one. That's just something you can't do, that'll kill you even when your defense is playing light out and giving you plenty of opportunities, which they did last week."
Each of the starters is still learning, especially Kalil, who signed with the Jets Aug. 1 and sat out the preseason to focus more on the playbook. But once the unit masters the scheme, Osemele believes the group is going to be "great."
"Right now, we're doing a lot of communicating and talking. It's high stress, high pressure right before the snap," the former Pro Bowler said. "We're changing things and five weeks from now, I don't think we're going to be doing that. I think we're going to be knowing where we want to go and what we're doing. It's going to be guys playing fast.
"As soon as you can eliminate all the thinking out there, guys play faster, everybody plays to their potential. We're not even at the point where everybody is playing to their full potential at full speed because guys are still thinking about it."
The 6'5", 330-pound Osemele, who's entering his eighth NFL season, said the group has often fallen into the right blocks even without the proper communication because of their experience. Once everyone up front gets comfortable, they'll start to see things before they happen, something Kalil believes will come with game reps.
"The more we can play together, the more continuity we can have, the better we'll be," he said. "This is the kind of offense you want to be able to play fast in and we're getting to that place. We really feel good about the stuff we were able to clean up from last week and looking forward to getting after it on Monday."