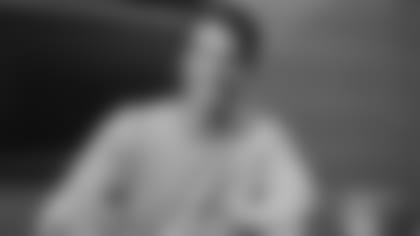 Before the Jets hired Adam Gase to be their next head coach, future Hall of Fame quarterback Peyton Manning gave his endorsement of his former offensive coordinator. Two months later, Manning's played a role in quarterback Trevor Siemian's decision to sign with the Green & White.
"I texted Peyton and just went back and forth with him, but he obviously thinks a lot of Coach Gase," said Siemian, who was deciding to sign with either the Jets or the Vikings. "Being with some of the guys that were there in Denver when Coach Gase was there, before I had gotten there, they spoke really highly of him. That and a bunch of other reasons are why I'm here and I'm super excited."
The fifth-year veteran was the Broncos' 2015 seventh-round pick, the draft that followed Gase's departure for Chicago. Now united in New York, Siemian is "beyond thrilled" to be with the Jets and Gase.
"The pieces are here, no doubt," he said. "But I think if you talk to a lot of teams in the spring, they're pretty excited and rightfully so. The pieces are here. I think the exciting part as a player is you get to build it from the ground up and we got the right guys here. It's just a matter of building it and we'll see where we go."
The 6'3", 227-pounder feels he has developed a unique outlook on the game from his three seasons with the Broncos (2015-17), two of which included being around Manning, and one with Kirk Cousins and the Vikings (2018). Siemian has started 24 games in his career and thrown for 5,686 yards, 30 touchdowns and 24 interceptions while completing 59.3% of his passes.
"It was a great experience," Siemian said of last season with Minnesota. "It was a really good room I got a chance to be a part of there. This will be my fifth year coming up, so it feels like each year I'm adding more things to my game and new perspective. Hopefully I can bring some of that here and help Sam (Darnold) and these guys win in any way I can."
Serving as Darnold's backup, Siemian believes the 22-year-old is going to be "just fine."
"I've played a little bit," he said. "I know he played with Josh (McCown) last year and that helped him a whole lot, but I've played a little bit and I have a little perspective. I've been in a few places, so I'm just hoping to chip in any way I can."