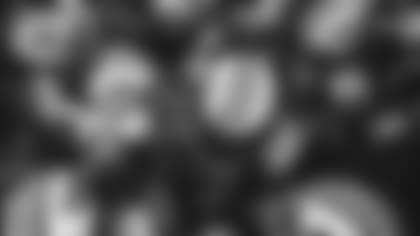 After team buses returned from Philadelphia Friday morning at 1:00 a.m., Todd Bowles was back in the facility a few hours later as the Green & White started their final conversations about roster cuts. All NFL clubs must reduce their rosters to a maximum of 53 players on the active/inactive list prior to 4:00 p.m. Saturday. The Jets have made a number of decisions already as the long weekend gets underway.
"We've made probably upwards of about 15 or maybe 20," Bowles told reporters on a conference call. "We are still going to have to walk through some more of them though."
Inside linebacker Kevin Pierre-Louis (1 game), wide receiver ArDarius Stewart (2 games) and cornerback Rashard Robinson (4 games) will begin the regular season on the NFL's suspended list, so those three players will not occupy roster spots.
"That will help out a little bit. It's bad that they are suspended, but if we are on the fence with a couple people — they may be able to squeak by and get some time in and then injuries always play a part in it," Bowles said. "It's going to be a tough deal either way, but hopefully we can finagle this where we get the best value with the guys we keep."
In addition to taking care of their own house, the Jets will monitor who springs free throughout the league. The 53 names on Saturday will almost assuredly have a few changes by the time the Jets reach Detroit on Sep. 10 for the regular season opener against the Lions.
"Obviously, we are going to wait to see what's out there," Bowles said. "We're not just going to bring in anybody, but if there's someone who interests us and we think can upgrade our roster, we'll definitely try and bring them in."
Many have speculated that the Jets could try to attempt to obtain a pass rusher through trade. In terms of any trade, Bowles declined to discuss any hypotheticals and deferred to general manager Mike Maccagnan.
"You're always looking all year, every year, but it's more Mike's department," he said. "We'll see what's available to him or if he comes down asking about somebody, we'll discuss it. If not, we'll just keep status quo."
Jetcetera
After New York's AFC representative wrapped up the preseason with a 10-9 loss to the Eagles, Bowles did not give a timetable on naming a starting quarterback for the regular season… Rookie signal caller Sam Darnold reacted to the business of the NFL, commenting on the Jets-Saints trade that sent Teddy Bridgewater to New Orleans. "This is obviously my first season in the NFL, so it took me a little while to understand what was going on," said the 21-year-old. "And just saying goodbye to him was kind of the hardest thing about the whole thing. He's taught me so much in such a little amount of time, but I'm just excited for his next step and his journey and excited to see what he's going to do in this league. I know that he's going to be a good player for a long time, so I'm just really excited for him and the opportunity that he has in New Orleans."… Bowles praised CB Rashard Robinson for his growth this summer. "On a personal standpoint, and he's suspended the first four games, but Rashard Robinson has done an outstanding job from coming back into training camp from the spring from last year from an attitude standpoint, from a playing standpoint, and from a professional standpoint. I couldn't be more proud of the strides he's made coming in personally."