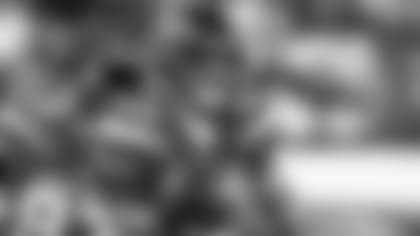 The 2019 regular season is rapidly approaching following the Jets' 6-0 victory over the Eagles in their preseason finale, and rookie linebacker Blake Cashman seems to be turning a page.
"I've been working with James Burgess a lot, Harvey Langi, C.J. Mosley, guys like that," Cashman said. "They know so much about football and what offenses run and the concepts, packages, what you're going to get — run or pass. It allows you to predict what the offense is going to do and kind of guess the play and put yourself in a good position.
"Just becoming a smarter football player and learning from those vets has been the biggest area, personally, where I've grown."
The fifth-round pick was flying around the ball early and often Thursday night at MetLife Stadium as he tied for the team lead with five tackles and added a forced fumble in addition to a special-teams stop.
On Philadelphia's first drive, the Minnesota product stuffed a screen pass to RB Josh Adams for a 5-yard loss. The following drive, he caused the defense's first of two turnovers, laying a nice hit on RB Wendell Smallwood, who coughed up the rock. Linebacker Frankie Luvu scooped up the ball and set the Green & White up on the Jets' 48-yard line.
"I just saw a hole open up at the line of scrimmage," Cashman said. "All week, [LBs] Coach Frank Bush kept saying 'Use your speed, shoot those gaps and don't be hesitant.' I took his advice, just playing free, playing football. I shot the gap and I was able to make a good tackle on the running back. I didn't even know the ball came loose. I just heard everyone started screaming and Frankie was running with the ball. It's everybody doing their job, though, which allows guys to step up and make plays."
The 6'1", 237-pounder said his first four months in the NFL have been everything he's dreamed of. But the life of a rookie is like drinking water out of a hose — there's only so much information one can digest. Thursday night, however, Cashman's hard work started to pay off and he saved his best for last.
"For this game, I knew a lot of the young players were going to be playing a lot," Cashman said. "I was really looking forward to it because when you're on the field more, you get into the flow of things and get the speed of the game. It allows you to play free, play comfortable. I was really looking forward to it. I've enjoyed this preseason, enjoyed making the relationships with other guys, working with the coaches.
"It's been nothing but a blast."