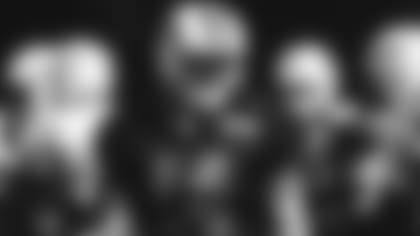 After playing three games in 11 days, quarterback Sam Darnold reflected on his play over the course of his extended weekend.
"I think I've done a pretty good job of keeping my poise in the pocket," Darnold said. "Sometimes I rush, but in the first couple games, I thought I found completions. I didn't do as good of a job with that in the Cleveland game, but I just have to continue to do things that are working, continue to find completions, but take my shots when they're there."
The No. 3 overall pick has connected with wideout Quincy Enunwa on 30% of his completions (17/56), but has only found Robby Anderson, Jermaine Kearse and Terrelle Pryor a total of 18 times. While that may raise a red flag to some, the signal caller said he's just focused on finding completions.
"For us, we have such an unselfish group," Darnold said. "They know I'm going to put the ball in the receiver's hands who's open. What the coverage does dictates what I should do. I'm just going to try to find the open guy whether it's checking it down to the back or completing the easy hitch. I don't think it matters who the receiver is. I'm just going to get the ball in someone's hands, let them go to work and hopefully get some yards after the catch."
However, Darnold lamented some missed opportunities down the field throughout Weeks 1-3. Moving forward, he wants to be more decisive by trusting both his instincts and his eyes.
"It's not that I wasn't necessarily trusting myself," Darnold said. "Just being able to look at and being able to say, 'Okay. I'm going to rip it in there.' I think that confidence comes with playing games in this league, so I'm going to continue to get the reps and I definitely think I'm going to improve a lot in the games that we play throughout the year."
In the span of 11 days, Darnold became the youngest quarterback to start an NFL game since 1970 and the youngest to toss for at least 300 yards (Week 2 vs. MIA). The 6'3", 225-pounder has completed 60.2% of his passes while throwing for 701 yards, three touchdowns and five interceptions. Even though Darnold is only 21 years old, Jaguars head coach Doug Marrone said his team is preparing as if he were a veteran because "that's what he's showing."
"I see him playing like a guy who's very comfortable," Marrone told reporters via conference call Wednesday. "He moves around well in the pocket, keeps his eyes downfield and is a threat. He has escapability and still is able to throw the ball vertically. He has a good sense of it. I wouldn't expect anything other than that."
The Green & White's offense is preparing to line up against the NFL's No. 4 overall defense Sunday in what could be Darnold's biggest challenge yet. Like a seasoned vet, the rookie told the media the unit is going to "play our style of football," just like he says every week. However, he did note the play of the Jaguars' pair of Pro Bowl cornerbacks in Jalen Ramsey and A.J. Bouye.
"He's a great player," Darnold said of Ramsey. "He's great in zone coverage and great in man coverage as well. Him and Bouye do a great job on the outside and they're great players. They play in a great defense, but I think it all starts up front for them. Their defensive front is amazing and we're going to have to get after them in certain ways."
Top Photos from a Steamy Wednesday at 1 Jets Drive