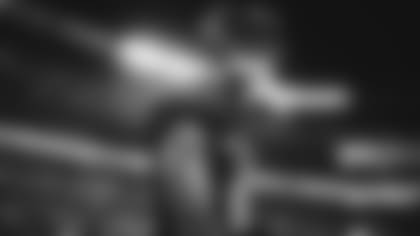 The Sun God is taking all the good feels with him into 2020. Jets wideout Robby Anderson, who will turn 27 in May, found peace off the field in 2019 and he believes he became a better player because of it.
"This year in general has really been the best year of my life all around," he said in December. "Outside of football — growing from people and certain things that were typically holding me back, finding myself as a man and really taking steps into being a man and holding myself accountable, taking my life and things in the past and growing from those things. I think it made it a lot easier for me to focus as a football player and then just my offseason workouts. I feel like I was in the best shape I've even been in."
The 6'3", 190-pound Anderson finished second on the Jets last season with 779 receiving yards and 5 TDs while averaging a team-high 15.0 yards a reception. In December, he became the 5th undrafted free agent since 1970 to reach 3,000 receiving yards in his first four seasons.
"I feel like each year, my goal kind of shifted due to my role and the circumstances I was under. It's big," Anderson said. "I don't think people truly understand what it's like being undrafted. You obviously are overlooked. Nobody would have really thought at rookie minicamp I'm undrafted and then now to be one of the top receivers on the free agent market, accomplished all this, basically have been a four-year starter, have been a key contributor and all these things.
"Nobody would have thought that, but the thing is I did and that's what I was working for," he added. "I knew what I was capable of and I knew what I was working towards. I never let it defeat me. I let it fuel me. A lot of people get drafted and where are they now? They lose their hunger. I know all I need is my health from God and an opportunity and the rest I can write the history."
Anderson, whose 92-yard scoring reception against Dallas in Week 5 was the second-longest pass play in team history, has long been known as a vertical threat and someone who can take the top off the defense. But in Year 4, Anderson was used frequently on deep-ins and crossing routes and slants.
"It used to be frustrating. I was like, I know I can do this," he said. "I'm just not put in those positions. I just feel like I was getting overlooked for things that people were forgetting. They probably weren't seeing it enough, but I think it was on full display. I mentioned earlier in the season that before I wanted to prove people wrong and I changed my mind to just proving myself right."
The lean Anderson displayed his strength more and he contested for the ball in traffic. He has great straight-line speed and quick feet in small spaces, but his most special trait of all may be his ball-tracking skill.
"When I see the ball, I tell myself that's mine, I got it. That's literally what goes through my head," he said. "When that ball's in the air, I'm already telling myself I got it, I got it. The brain tells your body, so there is no physical doubt and then I just track it. Sometimes I feel the defender, feel the positioning and as it comes down it's just a decision of what's the best way to catch it."
From 2016-19, the Temple product has averaged 52 catches, 765 receiving yards and 5 TDs. Anderson has not yet had a 1,000-yard campaign, but the Jets didn't have starting quarterback Sam Darnold in Games 2-4 this season due to a case of mono. Battling a myriad of injuries, it took the offense a while to find its footing.
"He persevered. He had a fantastic year, especially down the stretch," GM Joe Douglas said of Anderson. "But all year, he was getting open and I think Coach (Adam) Gase alluded to him a few times, he just couldn't get him the ball. We got him the ball down the stretch, late. He was making contested catches."
Anderson has an expiring contract and could become an unrestricted free agent on March 18. He doesn't know what lies ahead, but there is no rain in the forecast.
"I truly would hope I spend my career here and be like one of these guys, the all-time Ring of Honor players and all-time Jets," he said. "I would hope that is a reality, but it's a business and things have to fall into place and we have to come to an agreement. I am excited and that makes me even that much more excited for next year, knowing I'll be able to do the things that I've been working to do for my family with comfort and live my life with freedom and set up my future children and all those great things. Obviously more importantly get another opportunity to do what I love."