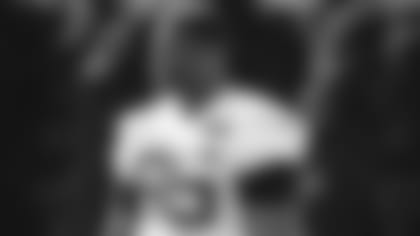 After missing the first official day of training camp while his contract was hammered out, Jets defensive lineman Quinnen Williams —braces and all— was ecstatic to return to the field on day two.
"To be back with my brothers and my team and to be back in New York and New Jersey has been amazing," said the first-year defensive lineman. "I'm going to get everything done and everything situated, so I can focus on football and ball out with my team. It's a blessing and an amazing feeling to be out here again and to get to sweat and grind with my brothers again."
The rookie, who spent a large portion of his offseason back home in Alabama, shed a few pounds and cut down on his body fat before his return.
"I just know that I'm in great shape right now. I got trim and got my body fat down a lot, and I'm at a great body weight right now," Williams said. "I'm just ready to perform, and I feel way better than I was in college. I feel like I'm way stronger, faster, and way more flexible."
Even though some professional athletes elect to hire elite trainers during the offseason, Williams decided to do things a little differently.
"I just worked out on my own, there's not really much else I can do. I can YouTube everything, I don't really have to go pay a superstar-performance dude, I can just YouTube and do it," Williams said while smiling to reporters. "You're going to go on the field by yourself, you can't take the performance coach with you. I just YouTubed a lot, I did a lot of stuff that we do here over and over. I did a lot of conditioning and I ran track a lot because I saw DeSean Jackson running track all the time, so I got me some track cleats and started running the track all the time. I had a conditioning test, so it got me in great shape for it."
Despite the much-anticipated return to the team and the loads of nontraditional workouts, Williams remained on the sideline Friday.
"That was good news yesterday for those guys to get that done, and then him getting on a flight and getting here last night and then coming out here and crushing the conditioning test," said head coach Adam Gase. "I just thought it was the right move holding him out of practice, not putting him in a bad situation of having him do the conditioning test and then practicing. He hasn't really been in meetings, he's been in one meeting so far."
After playing catch-up today with participation in walk-throughs and defensive meetings, Gase expects Williams to be a full participant tomorrow —the first day of padded practice.
"The thing with him, with his intelligence and how he picked everything up in the spring, he's a quick study. He's very good, his football intelligence is off the charts, and they're able to move him around," said Gase of the rookie. "The way that Gregg's system is, they do a good job of teaching it and guys do a good job of learning it. He'll be all over the place, just like all the rest of those guys."