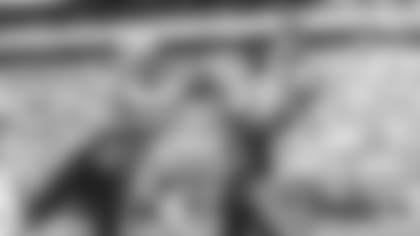 Last season at MetLife Stadium, Patriots tight end Rob Gronkowski got the better of then-rookie safety Jamal Adams as he reeled in eight catches for 83 yards and two touchdowns. Earlier this week, Adams said he was looking forward to the matchup and the 6'1", 212-pounder finished second on the team with 10 tackles and tallied a team-high three pass defenses in the Jets' 27-13 loss.
"I did well, but to me, not enough," Adams said. "I'm very hard on myself and obviously I wanted to create a turnover for this team to change the momentum of the game. At the end of the day as a whole, we just have to get better and play all four quarters."
The Adams-Gronkowski matchup was pushed into the spotlight early as Pats quarterback Tom Brady looked to hit his big tight end on third-and-10 on their opening drive. The 6'6", 268-pound Gronkowski was met immediately by Adams, who showed off great closing speed while delivering a bone-crushing hit and forcing the incompletion.
Then towards the end of the first half with the Patriots on the Jets' 16-yard line, Brady tried to hit Gronkowski on back-to-back plays in the end zone with Adams in single coverage. Both plays resulted in incompletions, which led to Stephen Gostkowski's 34-yard field goal to give New England a 10-7 lead with 2:27 remaining.
"I just deserve respect, man. That's how I look at it," said Adams, who has now recorded 12 pass defenses this season. "People say I can't cover and what not. Just put some respect on my name. That's how I look at it."
Entering Sunday's contest, the 23-year-old Adams was the only safety in the NFL this season with at least 65 tackles, one sack, two forced fumbles (team lead) and nine pass defenses. The second-year player ranks No. 7 among safeties with 67 tackles and paces the position with eight tackles for loss. Additionally, the LSU product's nine pass defenses were tied for second most among safeties.
Adams said he felt the defense played well in the first half as the group held the Patriots to 2-for-6 on third down (33%) but yielded 246 total yards. After trading field goals to open up the second half, New England scored 14 unanswered points and extended its lead to 27-13. Brady completed 20 of his 31 passes (65%) for 283 passes and two touchdowns and the Patriots totaled 498 yards, 215 of which came on the ground.
"It's tough. Obviously, we don't want to lose," Adams said. "We go out there and we are in tough ballgames like this. We're playing hard, but we're just not doing enough. We have to do more. We have to figure out that niche for us to get over this hump and go back to work next week and have to go to Tennessee and pull that one out."